Beauty
Beauty Spotlight – Soleil Airbrush Tanning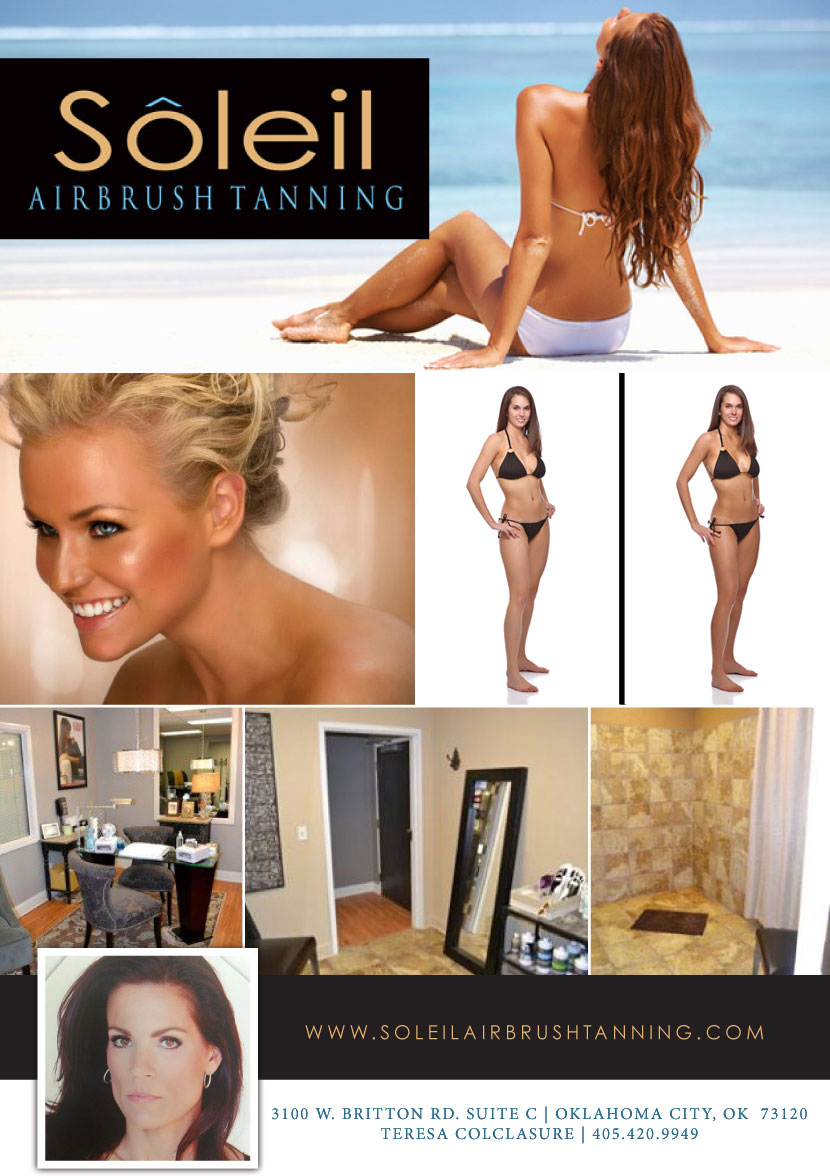 We know how important it is to a bride to look her best for the big day, which is why we love sitting down with local experts to find out how to get the look you'll love! We recently chatted with airbrush tanning expert, Teresa Colclasure of Soleil Airbrush Tanning to find out the inside scoop on the advantages of an airbrush tan for the wedding weekend! Check out our Q&A below!
What are the advantages of sunless tanning for the big day?
The advantages include taking care of your skin from harmful sun rays, the ability to have even coverage without tan lines from a swim suit, the option to customize a color suited just for your skin tone without worrying about a sunburn. Rather than wasting hours in the hot sun or tanning bed, you can walk in and walk out tan in 15 minutes.


What is the difference between airbrush and a spray booth tan?
Airbrush tanning opposed to spray booth tanning allows even coverage, no overspray or limited spray color that is used by booths, which many times produces the dreaded orange look. With my particular product, I can fully customize to suit your skin tone.
How long does the airbrushing take?
The service itself takes a total 10-15 minutes.
What are your most popular services?
My most popular services are the "Full Body" tan, which allows you to shower 8 to 12 hours after being sprayed. The "30 Minute Express" tan, which allows you to shower 30 to 90 minutes after tanning according to the degree of darkness you desire, is the second most popular tanning service I provide.
How many days before the wedding should a bride have the airbrushing done?
I recommend brides have the airbrushing done the day before the big day.


How long does a sunless tan last?
Your beautiful bronze tan will last between 7-10 days.


Anything else you'd like to add?
I have been told I am a "perfectionist" when it comes to my service. My name is on the line and I want you to be comfortable when you are receiving your service and most importantly want you to look your best for one of the most important days of your life. I believe the product I use is the best on the market. I am very health conscience and stand behind the product and the fact that it doesn't have many of the unhealthy ingredients many of the others use locally.  

Two other important things my clients love about my product is the fact that you will not leave smelling like you've been sprayed and you will be completely dry and not sticky when you leave the salon.
Other Local Vendors: Soleil Airbrush Tanning