Beauty
Bridal Beauty Spotlight – Chelsey Ann Artistry
by Brides of Oklahoma July 18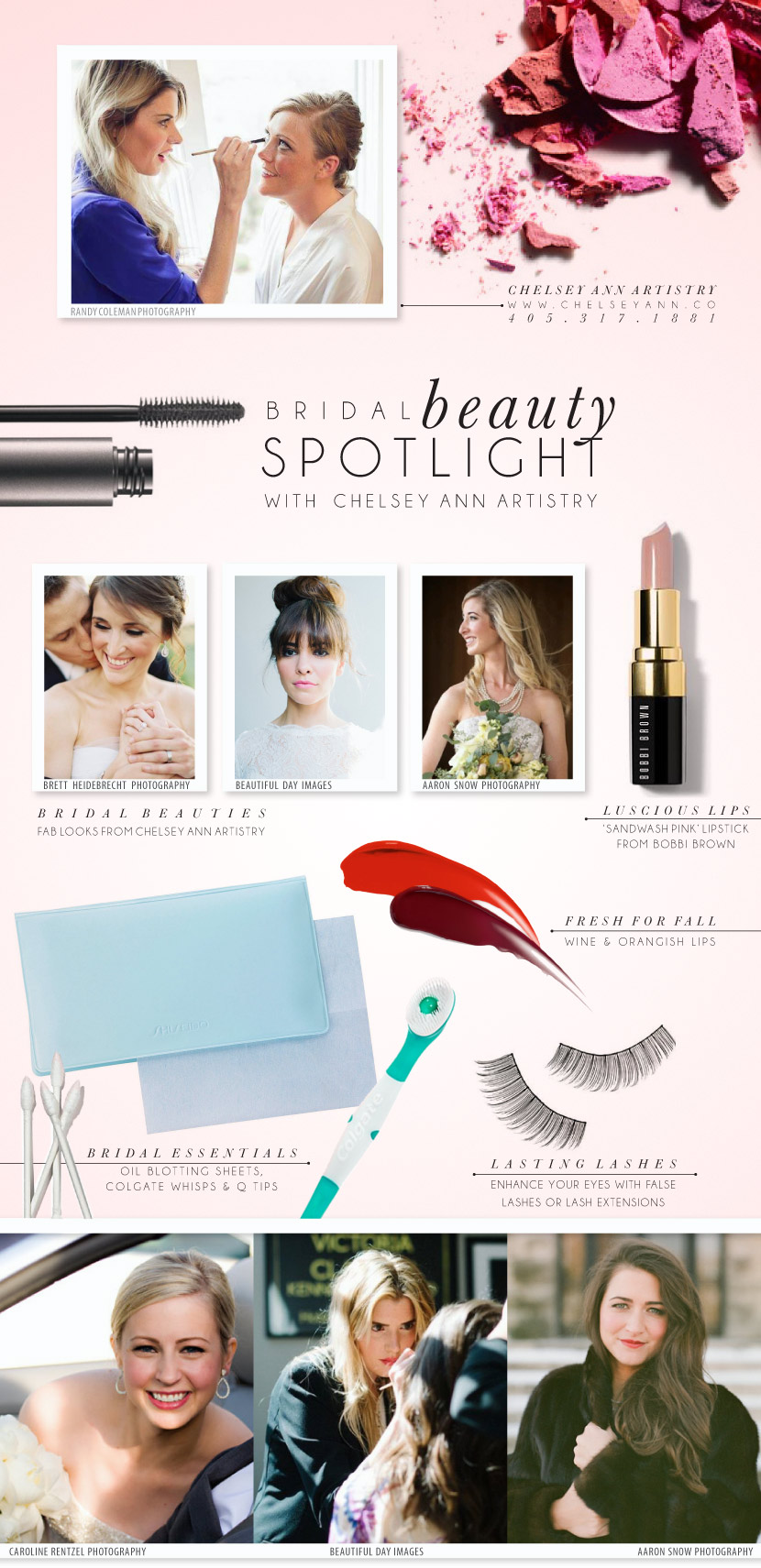 When the big day finally arrives, every bride wants to look her best! We're teaming up with local beauty experts to get the inside scoop on all things bridal beauty. We recently sat down with makeup artist Chelsey Ann Artistry to get her expert advice. Check out her helpful tips below and stay tuned to the blog as we share more beauty tips from local experts!
What are the advantages of doing a make-up trial run before the big day?
Really a great time to communicate about your look and learn more about the tips that we use insure you look stunning in your photos. It is always reassuring when you know what to expect, and if you will have good chemistry with your artist.
What advice do you have  for a bride trying to find the right look for her day?
Bridal Babes: LOOK LIKE YOURSELF!!! I can't say it enough. If you have a signature thing you do everyday, talk to your artist about incorporating it into your look.  A polished version of yourself will never be out of style.
What beauty product should every bride have with her at all times?
Blotting papers, Colgate Whisps, Q-tips, lip color
What beauty trends do you predict for the fall?
Fresh fall look… lots of wine and orangish lips. Clean eye makeup is still on point!
What's your favorite shade of lipstick?
Sandwash Pink' from Bobbi Brown  – perfect bridal beauty.
Do you recommend false lashes?
Yes, or extensions! They add a clean definition for photos.
How can a bride keep her make-up looking fresh and flawless throughout her big day?
Using the correct skincare and primers are key. Then tips like:
Not touching or rubbing your face,
Use a straw,
Use retouching or finishing powder.
Any other helpful beauty tips for brides-to-be?
Great idea to start moisturizing and exfoliating to give your skin the perfect 'canvas' for your look. Also nothing is more beautiful than a nice, white smile on your wedding day; get those teeth pearly white!