Beauty
Bridal Beauty Spotlight – LJ Hill Makeup Artistry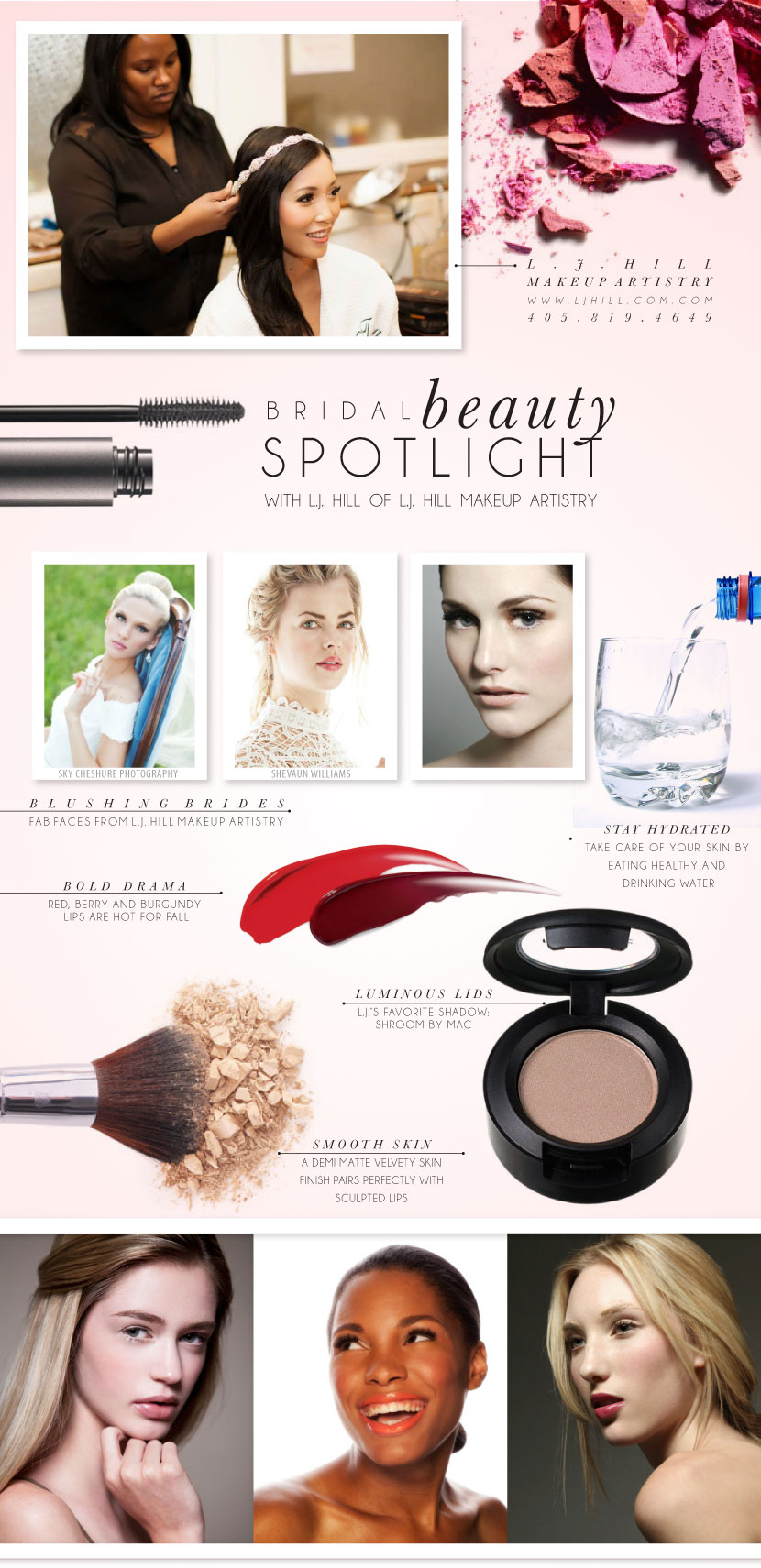 We love chatting with local wedding pros and are excited to share some beauty tips and advice from bridal makeup expert L.J. Hill Makeup Artistry! We've had the pleasure of working with L.J. on some fabulous photo shoots for the upcoming issue and can't wait to share her insight into achieving the perfect wedding day look! Check out our interview below!
What beauty trends do you predict for the fall/winter?
Bold drama! Fall always tends to usher in deep and warm colors such as red, berry and burgundy. Lips will be sculpted in theses colors as to add drama to a demi matte velvety skin finish.
What are the advantages of doing a make-up trial run before the big day?
A wedding makeup trial is typically done before your wedding in order to help you choose and try on different makeup looks and make sure these looks translate well on camera for your wedding photos.  Preparing for your trial will ensure the best results. It also saves time on your wedding day because the makeup artist will already have your makeup bag set up and ready to go.
What advice do you have  for a bride trying to find the right look for her day?
Go through your bridal magazines and pull out images that you like and take them to your consultation. The makeup artist should help you determine what you really like about each picture and incorporate that into your wedding look.
When it comes to beauty, what's one product no bride should leave home without?
Waterproof everything!
What's your favorite shade of eye shadow?
Shroom by MAC
How can a bride keep her look flawless throughout her big day?
Always get a touch up kit from your makeup artist. This will ensure that your look stays consistent throughout out the day when your makeup artist has long gone.
Any other helpful beauty tips for brides-to-be?
Keep your brows well groomed, but do not over groom them. Take great care of your skin by eating as healthy as you possibly can and drinking lots of water. Your skin is the canvas for great makeup application. Don't go get facials or peels right before your wedding day because you don't want any unexpected issues occurring. Always get a good nights sleep; who wants dark circles or bags on their wedding day that won't go away? Last but not least…SMILE! A smile is the best beauty accessory that you have.  Everyone loves a smile!
Other Local Vendors: L.J. Hill Makeup Artistry