Beauty
Bridal Beauty Spotlight – Melrose Makeup Artistry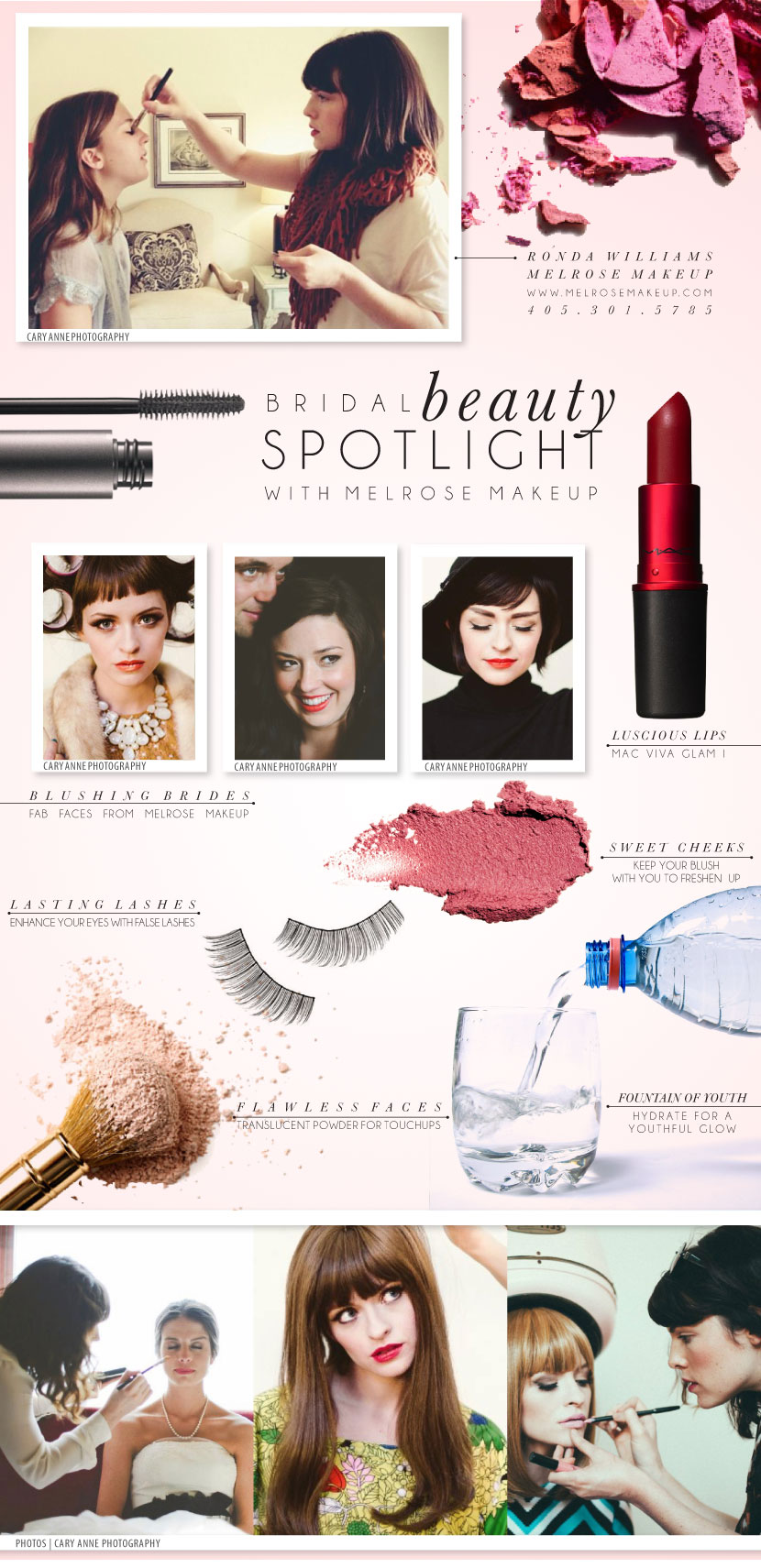 Oh how we love all things beauty! We're just as excited as ever to bring you more tips from local bridal beauty experts. We had the pleasure of chatting with Ronda Williams of Melrose Makeup Artistry and can't wait to share her insight into achieving the perfect wedding day look! Check out our interview below!
What are the advantages of doing a make-up trial run before the big day?
There are MANY different advantages to doing a makeup trial run before the big day. It's just like a bride wanting to do a trial run for their hair style! It gives the bride a chance to meet me, the makeup artist, and express her style goals for her wedding day. It also ensures the bride is comfortable with my ability to create the proper makeup look so that there are no worries or concerns on the big day, and let's not forget to mention that it's just plain fun! It's a time to kick back, play with some makeup and look and feel pretty!!
What advice do you have  for a bride trying to find the right look for her day?My advice to any bride looking for advice would be to use the gifts of the Internet! It's a sea of information for all things fashion, makeup or hair. Also, starting a Pinterest board really helps note and organize all of your favorite wedding/fashion/beauty inspirations, and Brides of Oklahoma magazine is always an awesome tool to find local Oklahoma vendors, event coordinators and event locations! It really helped me plan for my big day last year!
What beauty product should every bride have with her at all times?
A bride should carry a lipstick for touch ups and have one of her bridesmaids follow her with a bottle of water in hand and ready to drink! There is nothing more important than hydrating yourself before, during and after the big day. It creates and maintains a nice youthful glow to the skin. Water is often looked over as a beauty product but in my eyes it's the most important one! It's the fountain of youth, people!!
What beauty trends do you predict for the fall?
I predict that beauty trends for fall will call for a velvety take on the skin versus the dewey skin finish we are seeing so much this spring and summer. Lips will take some time off from a bold matte color in summer to a berry or plum stain for fall. There will be a pronounced vision of sixties inspired beauty. A move toward more ladylike makeup with a Hitchcock-style femininity.
What's your favorite shade of lipstick?
Oh gosh…this is an insanely hard question to answer!! I have over 100 lipsticks and I love and could name them all! I treat them like they are my friends, and I love organizing and cleaning them all! But if I was stuck on a deserted island and had to pick a lipstick to have with me, I'd have to pick MAC Cosmetics' Viva Glam I lipstick. It screams classic beauty. It demands attention. It's bold and sexy deep red is timeless. It's like having a little black dress for your lips!
Do you recommend false lashes?
Yes! False lashes are great for any special event. Whether your natural lashes are long or short, thick or thin, false lashes create an entirely different look on the eyes. They make your eyes bigger, and brighter in photos. A lot of people have a preconceived notion regarding false lashes, and that is that they are all thick, long and black, but this is definitely not the case. There are TONS of different lashes to choose from in natural finishes, different hair shades and types, and dramatic finishes. I carry them all in my makeup kit because I'm obsessed. There's something for everyone out there!
How can a bride keep her make-up looking fresh and flawless throughout her big day?
There are three beauty products every bride should have regarding the maintenance of her makeup. One, the bride should always have a translucent pressed blot powder. This will keep her from getting super shiny in photos but won't create a mask-effect to her already applied foundation. Two, the bride should always carry a touch-up lip color to make sure her lips are polished and vibrant, and three, the bride should have a blush on hand to touch up her cheeks. This will keep her looking fresh, alive, and beautiful on the big day!
Any other helpful beauty tips for brides-to-be?
Just remember that your wedding day is one of the most photographed days of your life, and you will look at and love your pictures for decades to come. Keeping this in mind, remember to create a look that not only expresses your personal styles and tastes, but create a look that's timeless and won't scare you or your family 20 years down the road! Have fun with your look, but keep it simple. Less is more always!
Other Local Vendors: Melrose Makeup