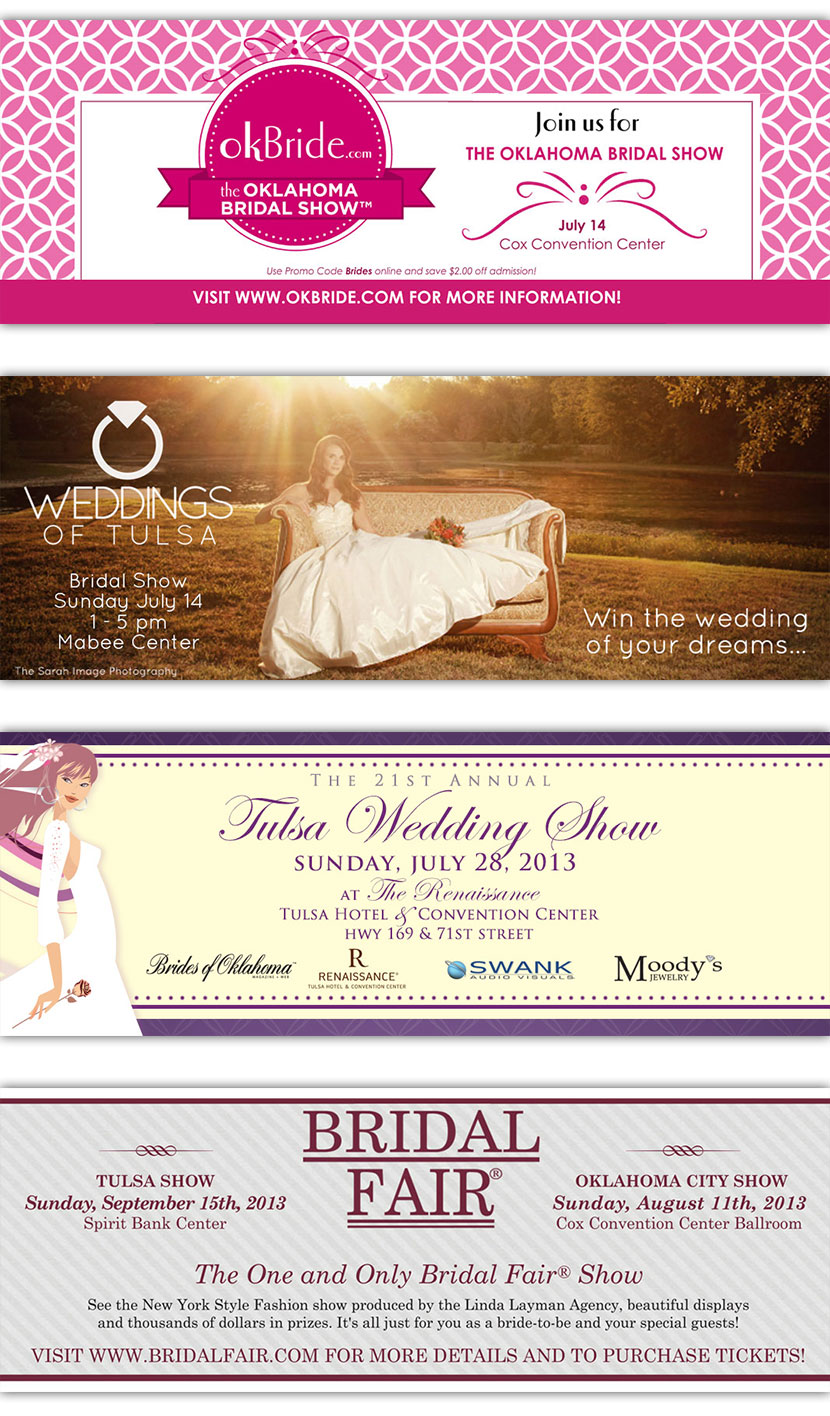 For all of you engaged gals, we had to share these fabulous bridal shows that are just around the corner! Just a little over a week away, is the OK Bride Summer Bridal Show at the Cox Convention Center in Oklahoma City and the Weddings of Tulsa Show at the Mabee Center in Tulsa. The OK Bride show will take place from 1 to 5 pm and tickets may be purchased at a discounted price online! Stop by the Weddings of Tulsa from 1 to 5 pm to meet local wedding vendors and for the opportunity to win an entire wedding valued at over $15,000! Visit either show to be one the first brides-to-be to get your hands on the newly released Fall/Winter 2013 issue of Brides of Oklahoma!
You won't want to miss the Tulsa Wedding Show on Sunday, July 28, from noon – 5 pm at the Renaissance Tulsa Hotel & Convention Center! If you want to be one of the first lucky brides to get to meet with vendors and get your hands on a copy of the Fall/Winter issue of Brides of Oklahoma magazine, be sure to sign up for the Tulsa Wedding Show's V.I.B. (Very Important Bride) event that is open from 10 am to noon to a limited number of brides prior to the Tulsa Wedding Show opening its doors to the public. Get one on one attention from local vendors, a pair of 5 mm pearl stud earrings from Moody's, a $100 gift certificate to announce your wedding in Brides of Oklahoma and receive all around VIP treatment!  Sign up for the V.I.B. Event online here or get more info on general admission to the Tulsa Wedding Show here.
And, last but not least the Bridal Fair will be hosting a show at the Cox Convention Center on Sunday, August 11, from 11 am to 4 pm! Be sure to mark your calendars and don't miss out on these fantastic events!  Cheers!