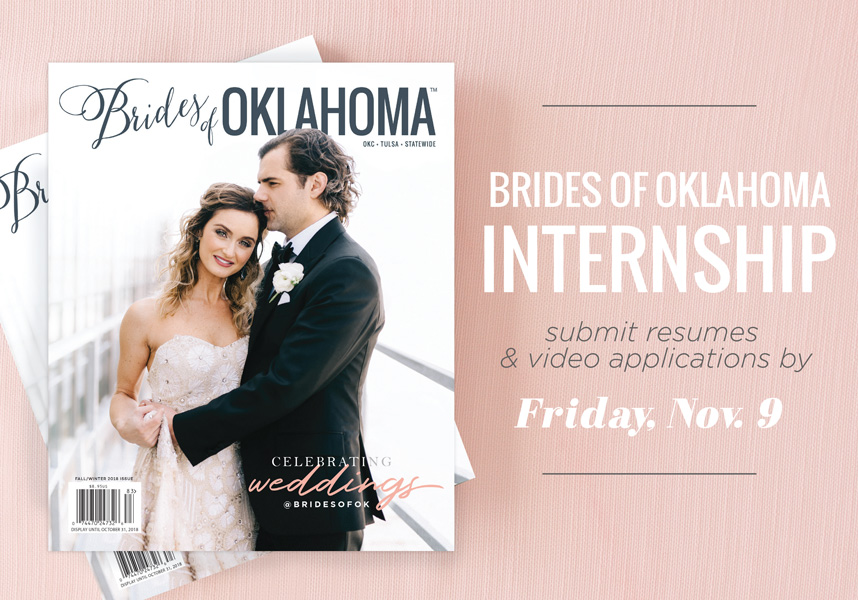 Interested in an internship with Brides of Oklahoma? We're officially looking for media and graphic design interns to join our team during this coming winter break and spring semester! Our media interns are responsible for conducting vendor research, creating content for our social media platforms, writing online posts and are involved in the distribution of the magazines. Our graphic design interns are responsible for creating graphics for digital and print and preparing images for online posts. Applicants must be a college student majoring in PR, Advertising, Journalism, Communications, Marketing, Online Media, Graphic or Web Design or a related field. We prefer seniors or juniors who are self-starters, full of creative ideas, love weddings and are organized. Those seeking to fill the media internship must be a strong writer and intimately familiar with all social media platforms. Graphic design intern candidates must be proficient in Adobe Photoshop and InDesign and provide a portfolio for review. The internship is unpaid, but can be used for college credit.
To apply, complete our online application form here and submit a 1-3 minute video telling us about yourself and answering the following three questions. Nothing too fancy, we're just wanting to get to know you quickly! You can include the video file or link on your application form, or if the file is too large, you can email the file or link to jennifer@thebridesofoklahoma.com with YOUR NAME – INTERNSHIP APPLICATION as the subject line.
What is your dream job?
What are you most passionate about?
What has been your greatest success so far?
Deadline to apply is Friday, November 9th.