Venues
Top All Inclusive Wedding Venues Oklahoma Has to Offer
Couples all over the state are searching for the most stunning all inclusive wedding venues Oklahoma can provide found in one convenient place and we have finally delivered! This guide for OK brides covers all our preferred wedding venues with catering included, full service so that you can cut down on the already-long list of things to handle before the big day. Read on for the finest all inclusive wedding venues in Oklahoma City, Tulsa and beyond down below!
All Inclusive Wedding Venues in Oklahoma City
Photo: Sarah Libby Photography
From rehearsal dinners to brunches, ceremonies to rocking receptions, treat your guests to an artful experience at Oklahoma City's 21c Museum Hotel. Located in downtown Oklahoma City's historic Fred Jones Building, the update of this iconic industrial space includes a stunning and intimate rooftop space, 134 hotel rooms, over 14,000 square feet of exhibition and event space, a contemporary art museum, and a chef-driven restaurant so you truly have access to it all. 
The Dominion House will captivate your guests with a style of sophistication and romance from the moment they arrive. The Dominion House offers a breathtaking wedding garden, elegant grand ballroom, and charming chapel for your wedding or special event. The historic beauty and elegant details of the Dominion House make for the perfect setting to celebrate your special day.
The Embassy Norman facilities are spectacular and the service you and your guests receive will be outstanding! This venue has space that can accommodate a wedding ceremony or reception from 10-2000 guests! They have a wide variety of space options from the breathtaking Grand Ballroom to their University Ballroom. Embassy Norman offers small banquet rooms that work great for intimate events, as well as upscale accommodations to suit out-of-town guests.
Photo: Dana Pearl Photography
Just minutes away from the hustle and bustle of downtown OKC you'll find the breathtakingly unique First Americans Museum. With floor to ceiling windows and  refinement at every turn this white, bright and airy space is the perfect place to say "I do"! If you are looking for a unique venue with a contemporary flare, inquire today!
Photo: Amanda Watson Photography
With beautifully landscaped acres of formal and natural gardens, the Myriad Botanical Gardens offers you a choice of so many striking places to gather for your next happening which now includes the stunning Events Center. With its natural light and striking panoramic views of the Gardens, breathtaking sunsets and nighttime glow of the Crystal Bridge Tropical Conservatory, the Events Center will make your next gathering a truly special occasion.
Photo: Kayley Haulmark Photography
Where else could you say you had a wedding with elephants than the OKC Zoo? The Oklahoma City Zoo's newest wedding venue Sanctuary Asia gives you just that. This beautiful restaurant and event space overlooks the elephant exhibit and includes a stunning two-story event space for the ultimate unique wedding. With the whole space being lined with windows, your big day will be lit by natural light and the coolest 360-degree view of the zoo and the pachyderms below!
Photo: Chelsea Littleton Photography
Whether they are hosting your intimate event with your closest loved ones or creating a larger-than-life celebration with a multi-day itinerary of nuptial events, Omni Oklahoma City Hotel will bring together the best of everything. With distinctive venues, from exquisite ballrooms to outdoor venues offering scenic views. Their dedicated team will cater to your every need with attentive service, exceptional cuisine and luxurious guest room accommodations.
Photo: Danielle Hope Photography
We are off to the races with this derby-style venue! Remington Park has the perfect space to make your reception, rehearsal dinner or wedding shower amazingly unique and special. Complimentary valet parking for all groups during live racing as well as groups of 50+ all year long. Throw a truly classy bachelor or bachelorette party and take home a commemorative group photo from the winner's circle. Live racing action acts as the perfect ice breaker and added entertainment for any event.
The Renaissance Waterford is a premier luxury hotel that is the perfect venue for a weekend getaway! You don't even have to take a step off the property to have a jam-packed day: take a swim in their seasonal outdoor pool or sauna, ball up on their racquet court, dine in their on-site restaurant, and finish the day relaxing in one of their upscale rooms. Oh, and don't forget about the wedding! Have a magical ceremony under the stars on their beautiful covered patio or a grand ballroom wedding in their classic ballroom. Either way, you're guaranteed to have the ultimate wedding weekend!
Photo: Reib Photography 
Just 10 minutes South of Norman on 60 acres, Southwind Hills offers a secluded, scenic setting for celebrations. We are a full service venue with on-site talent including design, floral, catering, and coordination teams who are all committed to providing phenomenal services that can be tailored for each couple's preferences and priorities. Allow our team to take care of the details so that you can focus on what matters most, your marriage!
Photo: Flick Mars Design
Recently opening in March 2022, The National brings to life the story, energy and even drama that is Oklahoma City. At The National, we're committed to helping you treasure it all. From the guest rooms and rare cuisine, to the First National Center's iconic place in Oklahoma history, we've curated an experience for your special day to immerse you and your guests in OKC culture. The National offers many amenities for your big day, including the Great Hall and four world-class restaurants and bars. The National would love to host your upcoming wedding!
Photo: Ashley Sunderland Photography
For more than 100 years, The Skirvin Hilton has been the embodiment of elegance and romance in Oklahoma City. You can leave the details to us. Our experienced event staff and catering experts will make sure everything comes together easier than you could ever imagine! All you have to do is enjoy the moment and let your Skirvin Wedding excite and delight while making memories that will last a lifetime.
All Inclusive Wedding Packages Tulsa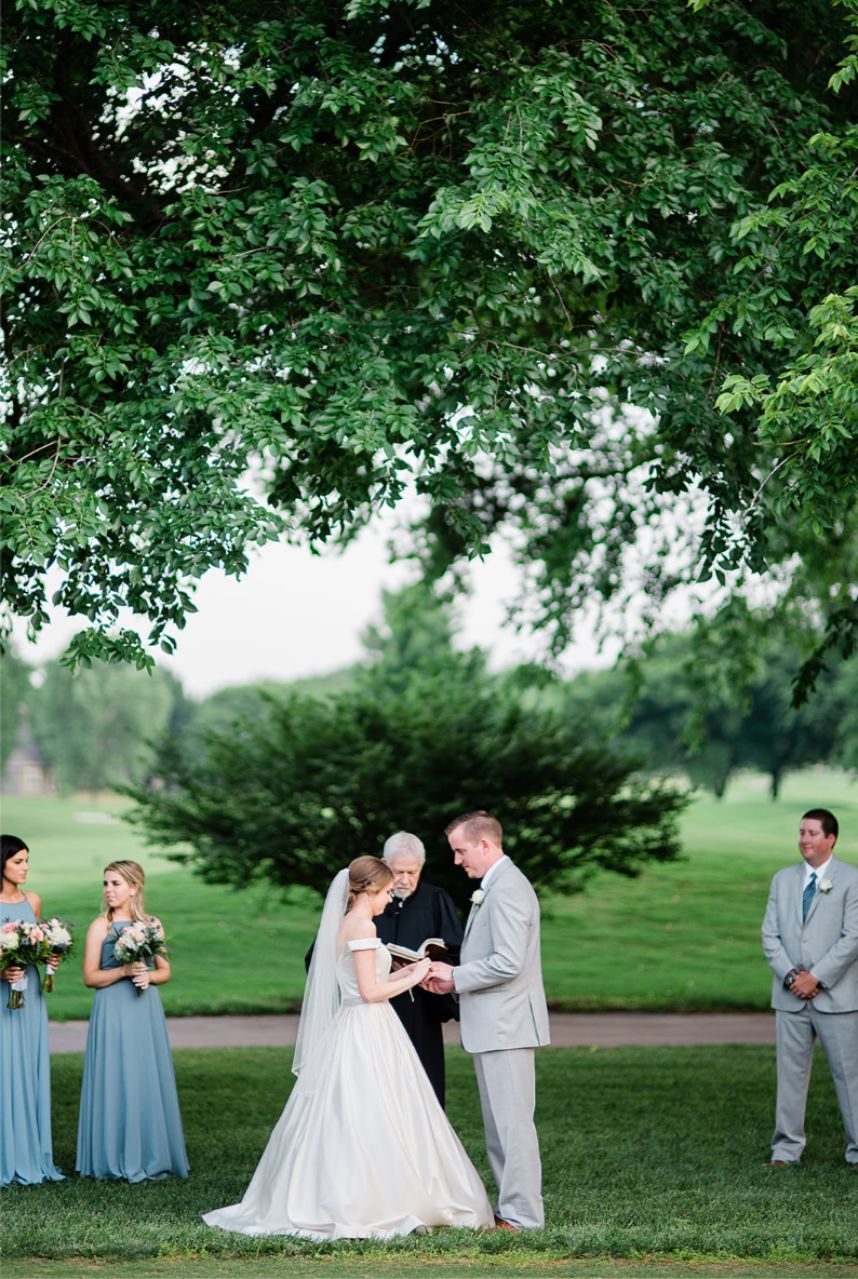 The Glass Veranda at Forest Ridge, located in Broken Arrow, is beautiful for an elegant wedding ceremony and reception. Forest Ridge offers multiple different packages, so you can explore various options as you are planning your dream day. Say "I do" beneath towering trees outside and host guests for an epic celebration inside. With a newly renovated and warm interior and stunning golf course view, the venue is ideal for a bride who wants a classic venue.
Photo: Kayley Haulmark Photography
Located at 115 West Fifth Street at the historic Mayo Hotel, you will find airy elegance and ritzy hallways! The Mayo offers customizable wedding planning and design services with their own on-site Mayo Event coordinators. Booking a venue that serves more than one function is a great the way to go. Between their restaurants, rooftop bar, accommodations and event spaces, The Mayo is sure to make your weekend celebration unforgettable!
Photo: Laura Eddy Photography
Enjoy the beauty of downtown Tulsa from the comfort of the country! The Patriot Golf Club is located at the top of the hills of Green Country and has some breathtaking scenic views of not only the golf course but downtown Tulsa. The Patriot recently opened a new clubhouse with onsite cottages available for bridal suites or wedding night rentals, private dining spaces for rehearsal dinners or showers, and a ballroom with seating for up to 240.
Rural Oklahoma Wedding Venues at Offer Catering
Photo: Josh McCullock
Located in Sulphur, Oklahoma
A hidden gem of southern Oklahoma, the Chickasaw Retreat and Conference Center just south of Sulphur is secluded on 1,750 beautiful green acres, nature-centered, and has all the amenities of a luxury resort. Accommodate your large wedding guest list or just get away to enjoy a weekend of indoor pool and hot tub fun, a ropes course, spa, sauna, steam room, and so much more. The venue has multiple wedding ceremony and reception locations, including beautiful indoor wedding spaces and numerous outdoor options featuring waterfront backdrops and views of the Arbuckle Mountains for wedding ceremonies. Take a visit right at sunset to see just what makes this space one of a kind!
Photo: Carsyn Craytor Photography
Located in Stillwater, Oklahoma
Plan your wedding or event with ease when you choose Meditations Wedding + Events + Catering to host your ceremony or reception. Just a short drive from the Oklahoma State University campus, this newly-remodeled event venue offers beautiful settings perfect for the indoor or outdoor wedding ceremony and reception of your dreams in a beautifully manicured courtyard underneath a picturesque white gazebo. A luxurious bridal suite and groom's room make it easy to picture your big day taking place here from start to finish!
Photo: Emily Nicole Photo
Located in Thomas, Oklahoma
Newer doesn't always mean better, but in this case it certainly does! Sorelle – The Meadow on Deer Creek is a modern farmhouse venue that was completed in 2019. Along with multiple outdoor ceremony locations, the venue also holds a stunning bridal suite and a separate groom's suite. The multitudes of resources provided at this venue not only allow for a dream wedding planning process, but an effortless wedding day, as well.
Photo: Lovesick Photographs
Located in Holdenville, Oklahoma
Sweetbelle Farms is a historic wedding and special event venue in south central Oklahoma that just opened up for weddings in 2018. The venue is a classic antebellum style, located on 100-year-old private family acreage. Their ballroom accommodates 200+ guests, while the all-white interior boasts gorgeous french chandeliers, dark floors and a grand fireplace. The outdoor grounds can accommodate 400+. Providing incredible amenities at an unbeatable rate, Sweetbelle Farms is the perfect location for your Southern soirée!
---
Find even more stunning Oklahoma wedding venues on our page here. Happy planning!
Other Local Vendors: Chickasaw Retreat and Conference Center, Embassy Suites Norman Hotel and Conference Center, Southwind Hills