Archive
Almost Married!
by Brides of Oklahoma June 2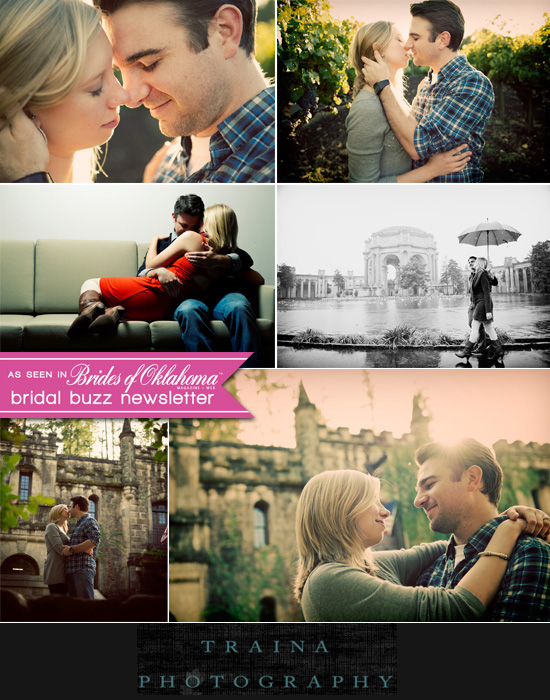 Have you seen the latest Brides of Oklahoma Bridal Buzz eNewsletter? We just adore the Almost Married couple captured by Traina Photography! If you don't already receive the newsletter monthly, be sure to sign up online! You'll have a monthly eNewsletter jam-packed with inspiration delivered straight to your inbox. If you're an engaged bride that would like to be featured in a Bridal Buzz eNewsletter, email alli@thebridesofoklahoma.com with a few of your engagement pics, photographer name and wedding date! Check out Christina and Jerry's oh-so-cute story below!
When Christina and Jerry met twice in the same year, they knew it was meant to be. They first met at a Fourth of July beach party in Malibu, California, and a few months later, they were re-introduced by Christina's best friend in San Francisco, where they were both living at the time. It wasn't long before they began dating.
Three years later on New Years Day, just after midnight while the couple was on vacation in Colorado with Christina's family, Jerry told Christina he had been saving for the perfect engagement ring and wanted her to pick it out when they got home. Christina had her dream ring custom made and Jerry surprised her when he took her to Golden Gate Bridge and surprised her with the ring of her dreams that he was able to get earlier than expected along with a beautiful proposal.
The couple will wed this summer in Oklahoma City. Light shades of ivory, champagne and rose will fill the Gaillardia Country Club as they walk down the aisle. With the help of Robyn Martin from The Wedding Belle, their beautiful summer wedding is sure to be a memorable event. Congratulations to Jerry and Christina!