Beauty
Bridal Beauty Tips from Atherial
by Brides of Oklahoma August 19
Beauty insight for the big day is on every bride's mind, so we sat down with the Atherial makeup artists to bring you the 411 on the latest bridal beauty tips and trends!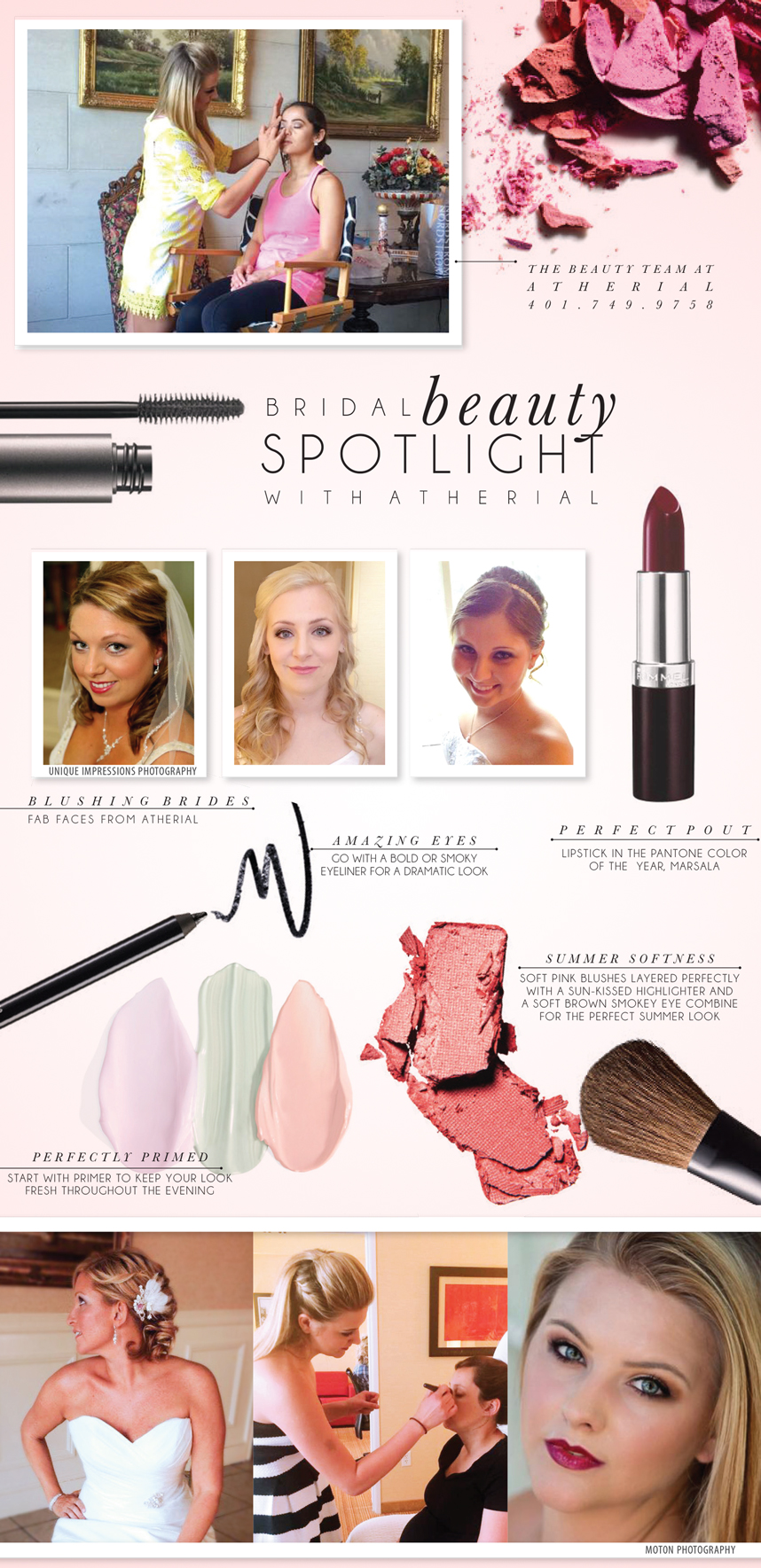 What beauty trends are you noticing for the summer? 
With weddings, it's always about the eyes and/or lips. This summer we are keeping the face makeup soft with flushed cheeks. Bronzes and soft neutrals on the eyes, with either a smoky or bold liner is gorgeous! Bold Marsala lips are huge this season.
What advice do you have for a bride trying to find the right look for her day?
Brides have many sources to reference when looking for inspiration. Magazines, Pinterest, Instagram…these are all great sources, but ultimately the bride must choose a look that is best for HER. Many of the images we see nowadays are so filtered, who knows what it really looks like! For this reason, it is important to use a professional makeup artist to help narrow down your choices. Whomever you choose should set time aside a few months before the wedding to do a trial run. This will ensure that you find a look and an artist that will make your day that much easier!
How can a bride help her makeup stay put for the entire event, and withstand the Oklahoma heat?
Every makeup application should begin with primer. Primer will help absorb extra oils, keeping your makeup fresh throughout the event. A matte foundation is a perfect choice for many reasons. Along with the primer, it will also help to absorb extra oils and it photographs beautifully. Finish off with a setting spray and you should be good to go!
What beauty product should every bride have?
Lipstick is a must have as it will need to be reapplied throughout the event. A light pressed powder for quick touch ups is also great to have, especially with the summer heat.
Any other helpful beauty tips for brides-to-be?
This is your day! Let the pampering begin! Choose to have your hair and makeup done by professionals that will come to you. Don't stress with running all over town! Also, be sure to wear a white button down shirt on both the day of the trial and wedding. White will not reflect color onto the face and because of this, the artist will have a truer idea of colors that will be best for you. Also, a button down will ensure that you do not mess up your hair or makeup. My biggest piece of advise…have fun!
Other Local Vendors: Atherial Makeup and Skin Studio