Fashion | Archive
Countdown to the Cover: Brides of Oklahoma All-American Fashion Editorial
by Brides of Oklahoma December 17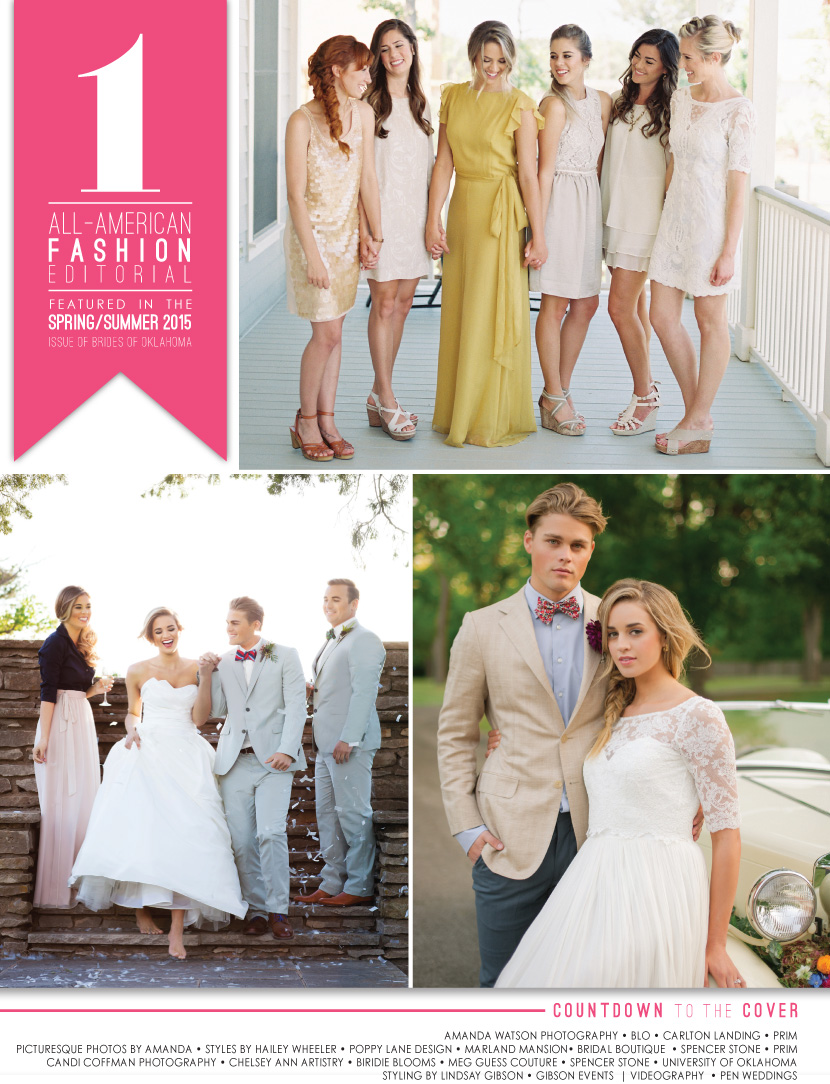 This year's bridal fashion shoot was unlike any other and we're just dying to share the entire 52-page spread…yes, it's 52 pages! This Americana-inspired fashion-filled shoot was concepted in collaboration with Oklahoma wedding designer, Lindsay Gibson of Gibson Events, and dozens of other Oklahoma wedding vendors who came together to capture the spirit of an all-American love story and the beauty of all the cherished moments celebrated before, during and after the journey to the altar.  We couldn't be more thrilled with how this amazing editorial turned out and can't wait to share all 52 pages with our readers oh-so-soon…but for now, a here's a fun peek!  We traveled across the state from Marland Mansion in Ponca City to Carlton Landing at Lake Eufala to pull off this inspiring fashion spread. We were so honored to work with Amanda Watson Photography on a dreamy lakeside engagement shoot and styled to the hilt bridesmaid brunch, Picturesque Photos by Amanda on an elegant ceremony and reception and Candi Coffman Photography on the prettiest day after session you could imagine! A special shout out to our lovely models Allie and Easton who were willing to follow us across the state jumping in lakes, taming large animals and just being all around amazing! We can't wait to share this incredible adventure when the magazine hits newsstands in just a few short weeks!
Don't forget that tomorrow is the big cover reveal! We can't wait to share our new cover bride, photographer and one more surprise you won't want to miss!
Want to be one of the first to get your hands on the new issue? Pre-order your copy today!
Pictured Vendors
Top Photo: Amanda Watson Photography, blo., Carlton Landing, Prim
Bottom Left: Picturesque Photos by Amanda, Styles by Hailey Wheeler, Poppy Lane Design, Marland Mansion, The Bridal Boutique, Spencer Stone, Prim
Bottom Right: Candi Coffman Photography, Chelsey Ann Artistry, Birdie Blooms, Meg Guess Couture, Spencer Stone, University of Oklahoma
All Styling by Lindsay Gibons – Gibson Events | Videography – Pen Weddings
Other Local Vendors: Gibson Events, Meg Guess Couture Bridal & Boutique, PenWeddings, Candi Coffman Photography, The Bridal Boutique, Birdie Blooms, Picturesque Photos by Amanda, Marland Mansion & Estate, University of Oklahoma, Styles by Hailey Wheeler Hair & Makeup Artistry, blo., Bella Bridesmaids, Spencer Stone, Carlton Landing