Archive
Get Your Groove On
by Brides of Oklahoma December 15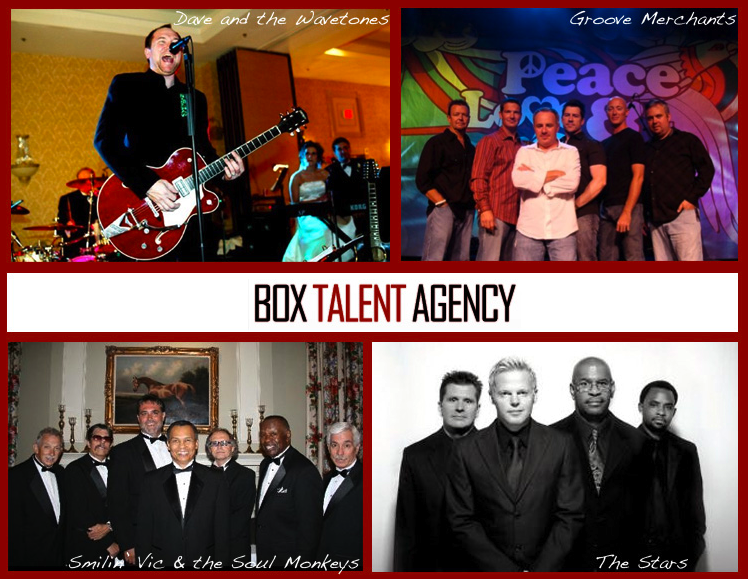 One of the most crucial decisions for brides-to-be is selecting the perfect entertainment for the wedding reception. Taking a cue from all of our past brides we've featured in the pages of our magazine, here are the top performers that brides just can't seem to get enough of! Each of these live bands can readily be booked through Box Talent Agency anywhere in the state! For more information check out their website by clicking here. Now, on to the top four most popular wedding bands, we've even included a demo from each group to help you choose your perfect groove!
Dave and the Wavetones have garnered the attention of the national spotlight! This fun upbeat band sure knows how to get your guests to the dance floor and keep the party moving all night! With music selections ranging from 80's pop hits to big band era pieces, Dave and the Wavetones has a variety of music to choose from that will keep your guests' toes tapping. Click here for a little sample of their music.
The Groove Merchants cover music from Stevie Wonder, Chicago and Earth Wind and Fire to all types of top 40 music hits of today! This 9-piece horn band quickly realized there was a connection to the audience who truly appreciated the complex harmonies and tight grooves that existed in their set lists. The Groove Merchants employ the talents of some of Oklahoma City's finest jazz, rock and country players who know how to keep the party hopping. Check out a demo by clicking here.

Smilin' Vic and the Soul Monkeys contains a veteran crew of musicians from Oklahoma City and Tulsa. The eight members have played all over the world and together have over 40 years playing experience. The band has wonderful chemistry and plays rhythm and blues with a splash of soul and dance, that is a sure hit at any party. All of their music is very danceable and highly listenable. Click here to listen to Smilin' Vic croon!

Stars – A popular Oklahoma City based variety band, the Stars have been around since the 80's. Playing a variety of dance music, they are constantly evolving to continually perform top dance hits. Their play list includes music from the 60's and 70's by groups such as The Gap Band, Bee Gee's and Beatles, 80's hit's by artist such as Prince, Rick Springfield, Vanilla Ice and Rick James along with current Top 40 Hits by artists such as Nelly, Akon, Usher, The Killers and Justin Timberlake. With so much diversity on their set list, the Stars are sure to keep your wedding reception grooving! Click here to hear the band.