Archive
Green Your Wedding
by Brides of Oklahoma March 17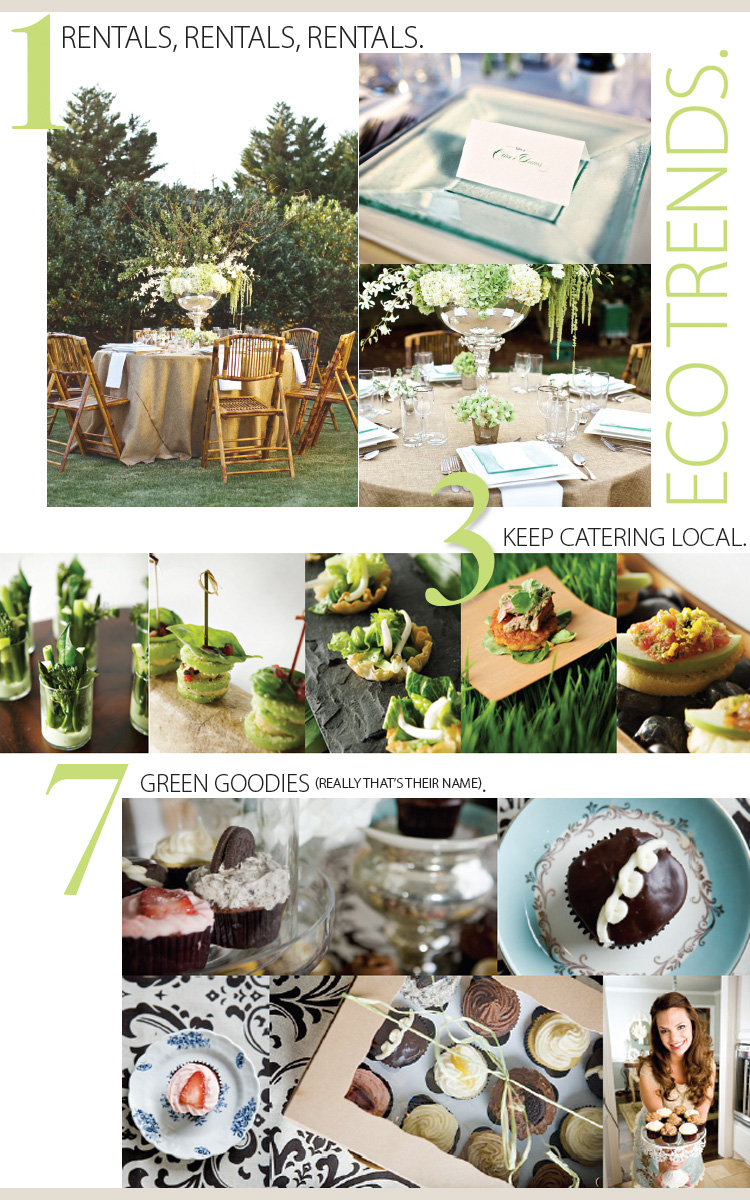 We just couldn't resist sharing some of our favorite ways to "green" your wedding, and how appropriate to share on St. Patrick's Day! Here are our top three favorite tips from Lindsay Gibson, of Gibson Events. To read the full Eco Trends editorial that shares 10 tips to "green up" your wedding, check out pages 76-77 in the Spring/Summer 2011 issue of Brides of Oklahoma.
1. Rentals, Rentals, Rentals. By renting items for your wedding, instead of buying, you are generally able to use higher quality materials at a lower price, creating little or no waste going to the landfill and honoring your guests with real china and utensils. (photo by Josh McCullock Photography)
3. Keep Catering Local. Oklahoma may not have kiwi or bananas, but we have great beef and a wider selection of fruits, vegetables and grains than most people realize. Work with your caterer to source local ingredients to save on transportation costs and show off the bounty our state has to offer, like these exquisite selections by Abbey Road Catering featuring locally grown and organic ingredients. (photos by Beautiful Day Images)
7. Green Goodies (really that's their name). This local bakery specializes in organic cupcakes made from scratch and baked in small batches. These sweet treats are "Clean," meaning they use only the highest quality ingredients such as organic dairy and eggs, the finest chocolate and vanilla, no artificial colors or flavors no trans fats, no high fructose syrup and absolutely no preservatives. These are goodies you can definitely feel "good" about! (photos by Heather McBride Photography)
Don't forget to find out additional ways to make your wedding more eco friendly by reading the full article in the magazine. Get your copy of Brides of Oklahoma on newsstands statewide, including booksellers such as Barnes & Noble and Borders, high-end grocers and other fine retailers! Happy St. Patrick's Day!