Archive
Let the Countdown Begin!
by Brides of Oklahoma December 8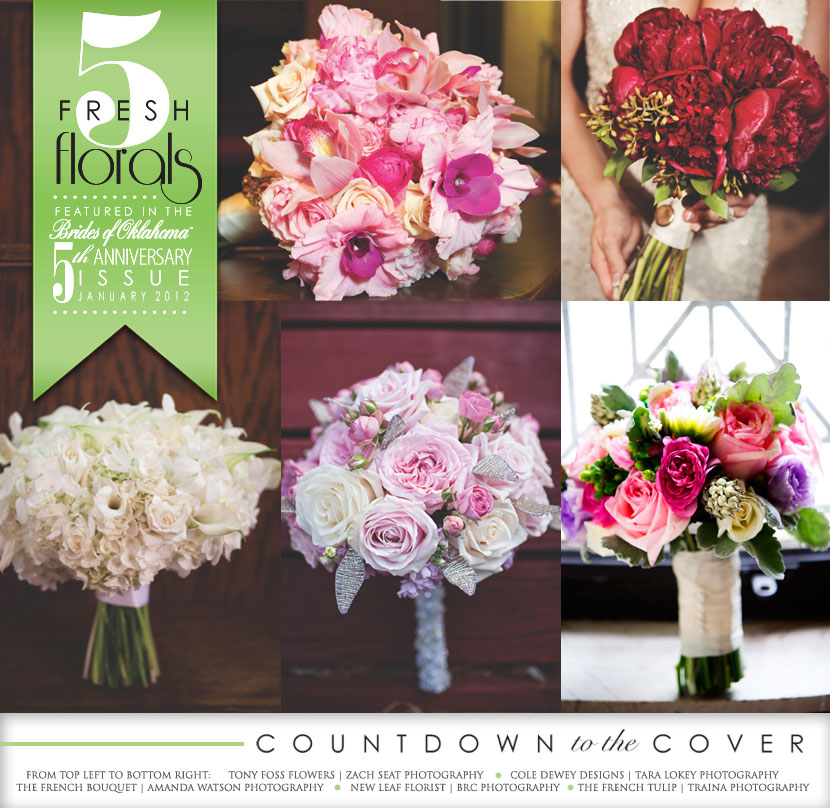 Let the countdown begin! We're so excited to reveal our glamorous new cover bride – the lucky bride who snagged the honors and will be seen on the special 5th Anniversary issue of Brides of Oklahoma magazine. But, we have to let a little anticipation build so in preparation for the big announcement next week, we wanted to share lots of other gorgeousness that you'll find in this extra special edition. It's our biggest issue ever and chock-full of amazing weddings, décor, florals, fashion and the list goes on. Here's a peek at what's in store! We've kicked it off with 5 Fresh Florals – as seen here, fabulous bouquets from just a handful of Oklahoma wedding florists featured. From top L to bottom R: Tony Foss Flowers, Cole Dewey Designs, The French Bouquet, New Leaf Florist, and The French Tulip.
Stay tuned for more each day as we countdown to the cover reveal! And, if you want to be one of the firsts to get your hands on our 5th Anniversary issue (even before it hits newsstands or makes its debut anywhere), be sure to
place your pre-order today
and rest assured your issue will get out priority to you just as soon as we have them in our hands! Cheers!