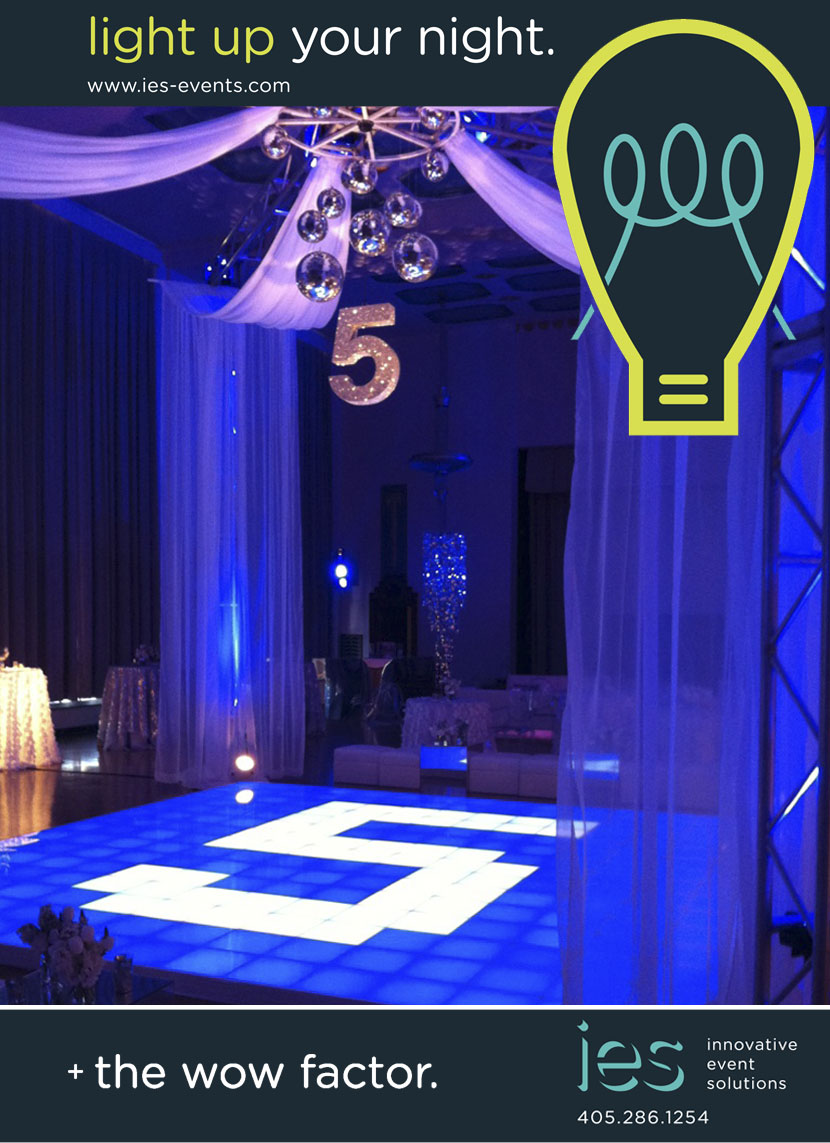 We're still on cloud 9 from our special 5th Anniversary party that we hosted last Thursday, honoring the Oklahoma wedding industry's finest and the beautiful Oklahoma brides featured in the 5th Anniversary issue!  It was a night to remember as we unveiled this commemorative issue, and we couldn't resist sharing just a little peek inside the party at the Meinders Hall of Mirrors – the very same venue where the magazine debuted 5 years ago!  Here's just one shot of the focal of the room – made spectacular by Innovative Event Solutions.  We're a huge fan of lighted spaces and now firm believers that a lighted dance floor will keep the party going all night long!  This was our first time to test this amazing dance floor at an event of our own and we were all amazed.  The dance floor was lighted with a stationery 5 in the early part of the evening but as the night progressed, the floor changed as everyone danced the night away.  If you're not familiar, this LED dance floor has computer sensors that detect movement and every square foot of the dance floor changes colors as guests dance the night away.  Or, you can customize it any way imaginable! It's pretty spectacular if we must say so ourselves!
Innovative Event Solutions also lit up the incredible over-sized truss system that housed the dance floor and did all of the beautiful draping and center chandelier – complete with mirrored spheres and a platinum glitter "5".  If you're wanting to transform a space and create an atmosphere your guests will love, be sure to connect with Innovative Event Solutions and schedule a consultation today.
Stay tuned for more fun photos from the party.  And, to order a copy of this brand-spankin' new issue, click here or pick up your copy on the newsstands at the end of this week!  Cheers!