Archive
Looks of Love Winner Announced!
by Brides of Oklahoma February 14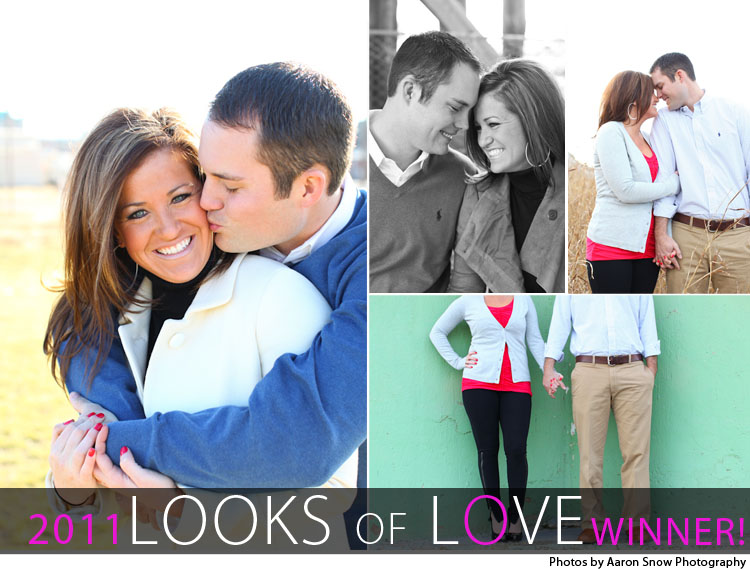 Happy Valentines Day! We have been on pins and needles in anticipation of announcing our Looks of Love winner! Lincoln  and Ashley's story just stole our hearts, and we'll be treating them to dinner to celebrate! Their adorable pictures were taken by Aaron Snow Photography. We'll be sharing some more of our favorite Looks of Love entries throughout February so check back to see more couples in love! Read on to find out just how this couple "ran into each other!" Cheers!
Ashley and Lincoln met on the afternoon of June 29, 2009. Ashley was headed to meet a girlfriend for lunch and Lincoln happened to be off work that day. She was turning left atthe intersection of 31st & Peoria and hit Lincoln head on. Ashley totaled her car and Lincoln's car. They went their separate ways after the wreck, but the next day Ashley felt so bad. She was so sore and knew he had to be sore as well. She got on Facebook and looked up his name. Ashley sent Lincoln a message asking how he was feeling and to let her know if he had any questions throughout the insurance process. He didn't have any questions regarding their insurance, but he did ask her to grab drinks after work one day. They met up shortly after and have been inseparable ever since! Lincoln asked me to marry him at the intersection where we had our wreck on December 6, 2010! When people ask us how we met we like to say, "oh we just ran into each other." Photos by Aaron Snow Photography.