Beauty
Bridal Beauty Tips from Kaydee Jean Makeup & Skin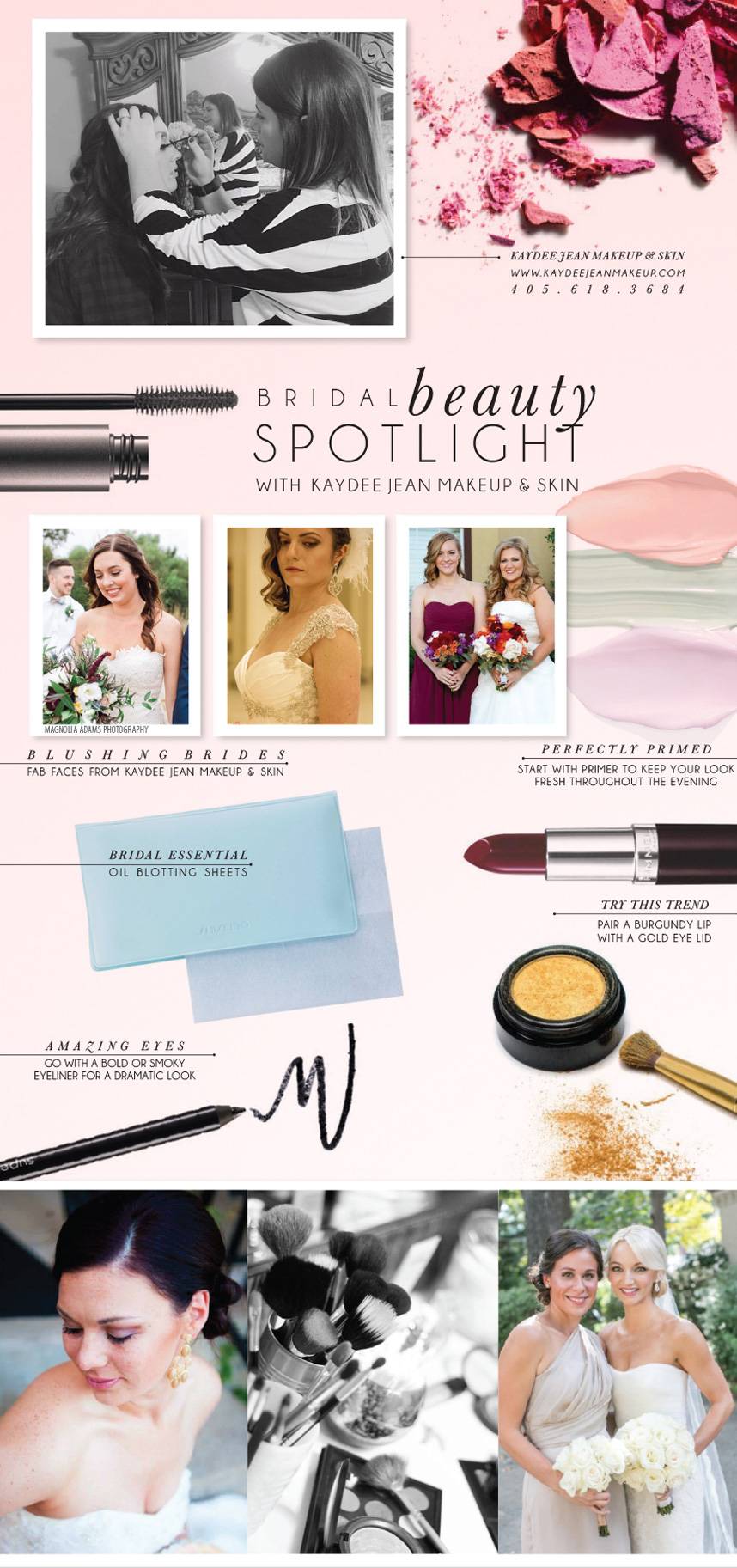 Every bride wants insider tips on all things beauty, so we sat down with Kaydee Jean Makeup & Skin to bring you all the bridal beauty tips you need to know for your fall wedding!
What beauty trends are you noticing for the fall? 
This is such a heavy question because I feel there are so many different looks depending on what source you look at. I am noticing a lot of 90's coming back in style, but with a more polished look. Brown lips are all over the place for the fall season. You could try the soft, pinkish-brown worn by the iconic Kylie Jenner. Also, you could add a twist on the classic red lip by wearing a burgundy "vampy" lip with a gold lid. The lovely Emma Stone has been spotted wearing this combo on numerous occasions. Rocking a wearable smoky eye is making a comeback, this was all over New York Fashion Week. Instead of the traditional smoky all over, it is more concentrated on smoking out the lash line. This look is easy to achieve with only three items. First, get a dark eye shadow, a kohl pencil, and a small makeup brush such as a pencil brush or any detailing brush (if you don't have either, no sweat! Try using a Q-tip). Outline your eyes first with the kohl pencil, then take your makeup brush or Q-tip and gently smudge the eyeliner around. After that, you can take your shadow and lightly press the color, focusing closest to your lashes, to set the kohl pencil and help it last all day. Remember, blending is the key and you can use eye makeup remover to clean up any fall down. Last, Finish off with your favorite mascara!
What advice do you have for a bride trying to find the right look for her day? 
This is the million-dollar question I am always asked. Finding the right look for your day is a big deal. Brides don't want to look like someone they are not, but definitely want to look extra special. My answer is to go for whatever makes you feel like your best self! Because when you are happy, you are beautiful! Finding out what makes you the happiest is key, and this is best done by having a productive consultation. Pintrest is a blessing and a curse. It allows the bride to look at so many platforms for makeup ideas, but can sometimes be very overwhelming. If you're feeling overwhelmed, then it's best to start with what you aren't fond of and go from there. My biggest recommendation is always to conduct a run-through. No bride wants to be surprised by a makeup look she envisioned for herself, turning out to look much differently on her wedding day. Last, look at what you are comfortable wearing and don't be afraid to express yourself!
How can a bride help her makeup stay put for the entire event? 
Having your makeup look fresh throughout your entire event is an important task to achieve. After all, you want your pictures to have the same glamor as they did within the first few hours of your day. Your first step is to start off with a clean slate. Making sure your face is freshly cleansed and toned to take off any excess dirt and oil is fundamental. Having an abundance of oil present is one of the main causes of the "my foundation just slid off my face" complaints. After cleaning, having a good moisturizer will help balance everything back out. This will also not cause your skin to suck up your foundation causing a cake like appearance. One of my must-haves is a good quality primer. There are so many different primers on the market that correct all types of problems, such as redness, enlarged pores, dull skin, dryness, oil and the list goes on. Doing your research or getting a sample to try it out is always a great idea! Applying your moisturizer and primer approximately 15/30min before you want to apply your foundation is a great tip to allow your skin to absorb the entire product. Now that you have a perfect canvas, making sure you have the appropriate foundation will make your face look flawless throughout your entire day. I personally like to use a long wear foundation for my bride that is sweat proof and water resistant. Having blotting sheets or a little pressed powder compact will help control unavoidable shine.
What beauty product should every bride have? 
Now that a lot of bridal gowns come with hidden pockets, it is easy to conceal your little beauty secrets throughout your event! Every bride should have some lipstick on hand, since that is always the first thing to disappear from your flawless look! You can't go without a little compact mirror, no bride wants to have something in her teeth or mascara smears. There are even some lipstick tubes with a built in mirror on the applicator itself. Blotting sheets. These are especially important for Oklahoma's hot summer weddings or for people who have naturally oily skin. Since you have a pocket mirror you can always check how fresh you are looking and blot any shinny spots through the day.
Any other helpful beauty tips for brides-to-be? 
The list could go on and on about beauty tips for brides-to-be. I'm just going to give my top three, so here we go! My first two relate to skin care. As an esthetician, I like to focus on making your skin the best it can be, which will give your makeup a flawlessly dewy glow. Hydration is a huge one! Lets face it; most of us don't get our daily water intake. This is important not only to flush out your insides and help with bloating, but it will also help your skin look fresh and balanced; not flakey and dull. Exfoliation, exfoliation, exfoliation. Making sure you use a facial scrub or something like a Clarisonic will slough off all the build up of dead skin and dirt. Exfoliation not only makes your skin soft and smooth but will also help minimize clogged pores. Think outside the box. Being up to trying new things for your wedding makeup is great; such as having your eyebrows filled in or using a heavier blush (these things are important to show up in your pictures). Also, making sure you lay out all the changes you want prior to the day of your wedding will help insure that your beauty routine goes smoothly.
Other Local Vendors: Kaydee Jean Makeup & Skin