Archive
The Countdown is On
by Brides of Oklahoma November 10
The release of the January issue of The Brides of Oklahoma magazine is closer than ever!  We couldn't be more excited!!!  Expect nothing short of endless inspiration from the over 1,000 pictures of details from real Oklahoma weddings from across the state.  And best of all, we highlight all of the vendors advertising with us that helped make the bride's day spectacular.  So, if you see something you love, you know right where to go to get it!
We've picked the Brides of the Seasons contest winners and are honored to give you a glimpse into their fairytales and their love stories.  Below is a sneak peak of the couples who won and some well-deserved credit to the photographers who captured their day.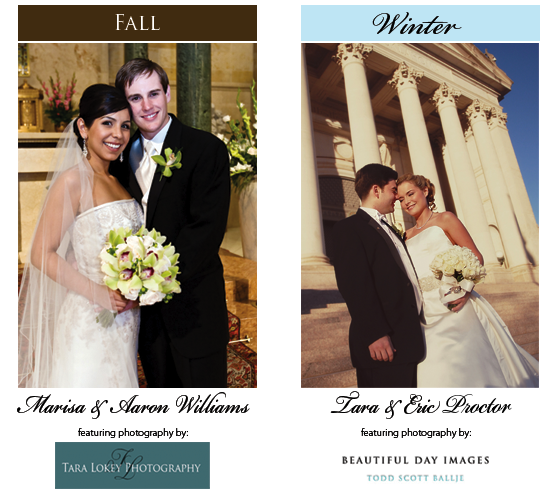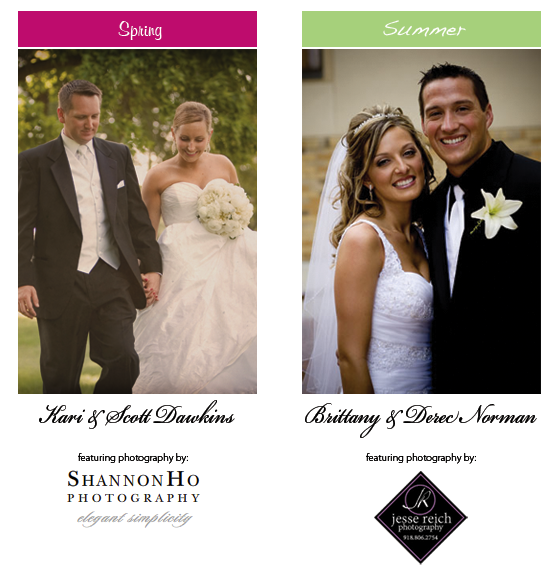 Prepare to be amazed by the talent of Oklahoma's sugar and cake artists in our exclusive cake pictorial.  We've also got a section of the magazine dedicated to highlighting luxe locations from across the state, in an effort to help you make that ever-so-important decision on venue so much easier.  Gowns galore, jaw-dropping tabletop designs, the dish on local registry, honeymoon hot spots and so much more.  We can't wait for this 352-page mag packed full of 100% local information to hit newsstands in January.  Check back regularly through the holidays to get more information on the upcoming release!
Although the deadline for our January issue has passed, we'd love to have your wedding or engagement in the July, 2009 issue.  To reserve your wedding or engagement space in the magazine, visit https://www.thebridesofoklahoma.com/announce-wedding/.  Cheers!