Meet The Team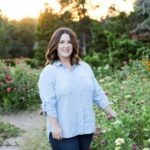 Meagan Ferren
Owner
About
At Poppy's Garden we love creating bespoke arrangements for those wildly in love. We are known for creating organic, lush, and romantic arrangements, using wild textures and luxurious blooms. It goes without saying that a beautiful bouquet or floral arrangement makes us giddy, but we also know what takes a wedding or event to the next level are the details. Whether you are looking for full floral design, event design services, or just need a few statement areas designed we want to make your vision a reality. During the design process we will discuss the details of your wedding, what your priorities are, what you're most excited about, how you want your event to look and feel. After getting an idea of your style we can start creating a vision for your day. Whether you have been dreaming of your wedding since grade school, or you have no idea where you should even begin, Poppy's Garden would love the opportunity to create an event that reflects you as a couple.
Pricing
Pricing depends on types of flowers used, seasonal availability, complexity of design, and vessels used. Allowing 12-15% of your total wedding budget for florals is a good starting point. We do not have base pricing or pricing packages, but weddings requiring wedding party floral, ceremony, and reception florals typically start at roughly $3000. Contact us and we will take your ideas and create a custom detailed proposal. The day of your wedding, our team will be on site to ensure every bloom, vessel, and detail, is perfectly placed.
---
Just in time for spring, this inviting mansion styled shoot from Poppy's Garden features beautiful blooms, vintage furniture and the most charming venue. Shot at Willow Creek Mansion by the one and only Picturesque Photos by Amanda, our model bride wowed in a fresh and flowy gown designed by Bridal Couture by Sonni. The floral appliqué on the bodice of the
Claude Monet said it best, "I must have flowers, always and always." We couldn't agree more as we share this beautiful centerpiece editorial shot by Tammy Odell Photography highlighting a handful of Oklahoma's best florists, directly from the pages of our latest Spring/Summer 2018 issue! If you're anything like us, you'll be blown away by the incredible craftsmanship that went
The bridal beauty looks our Oklahoma hair and makeup artists created for the Spring/Summer 2018 issue did not disappoint! From loose and romantic updos to windswept, flowing locks, and from dewey, barely-there makeup to a smoldering smokey eye, our beauty pros created every look an Oklahoma bride could need for their day-of style inspiration. Keep reading below to get to know these hair
Day 3 of our Meet the Mag Creatives blog series is in full swing! We've loved taking a closer look at the Oklahoma wedding vendors that bring dreams to reality, and today we're diving into our incredible rental & lighting companies. With so much to choose from, representing any and all styles, these vendors have got you covered in all of
We cannot get enough of the stunning florals our Oklahoma wedding florists crafted for the Spring/Summer 2018 issue! From bouquets to altar backdrops to lavish tablescapes, you'll find the most incredible, trend-inspiring florals throughout. Let us introduce you to the 20 incredible floral designers that contributed to our Spring/Summer issue below. Stay tuned to the blog to see these shoots in full
With the release of our Spring/Summer 2018 issue just days away, we're thrilled to once again begin our countdown to the new Brides of Oklahoma cover! We're kicking things off with five fresh florals you'll find in the new issue. As you flip through gorgeous editorials and stunning Oklahoma weddings, you'll find hundreds of fabulous images featuring some of Oklahoma's top wedding florists – this
In a fresh and stylish take on traditional bridal photos, the ultimate gal pal gathering of a model bride and her bridesmaids was brought to life in this ranch setting styled shoot! Held at Sparrow Beginnings, the classic farm house brought a modern twist with the use of a stark charcoal black entryway, white and wood high ceiling kitchen and wallpaper
Dressing up your guy is (almost!) as important as dressing up you! We are loving each of these unique boutonnieres, perfect for the well-dressed groom! Whether it's colorful and vibrant, or soft and subdued there are so many options for creating a complementing floral design for him! These are just a few of our favorites from Oklahoma wedding florists! Enjoy!