Beauty
Bridal Beauty Spotlight – Ashlee Bivins Makeup Artist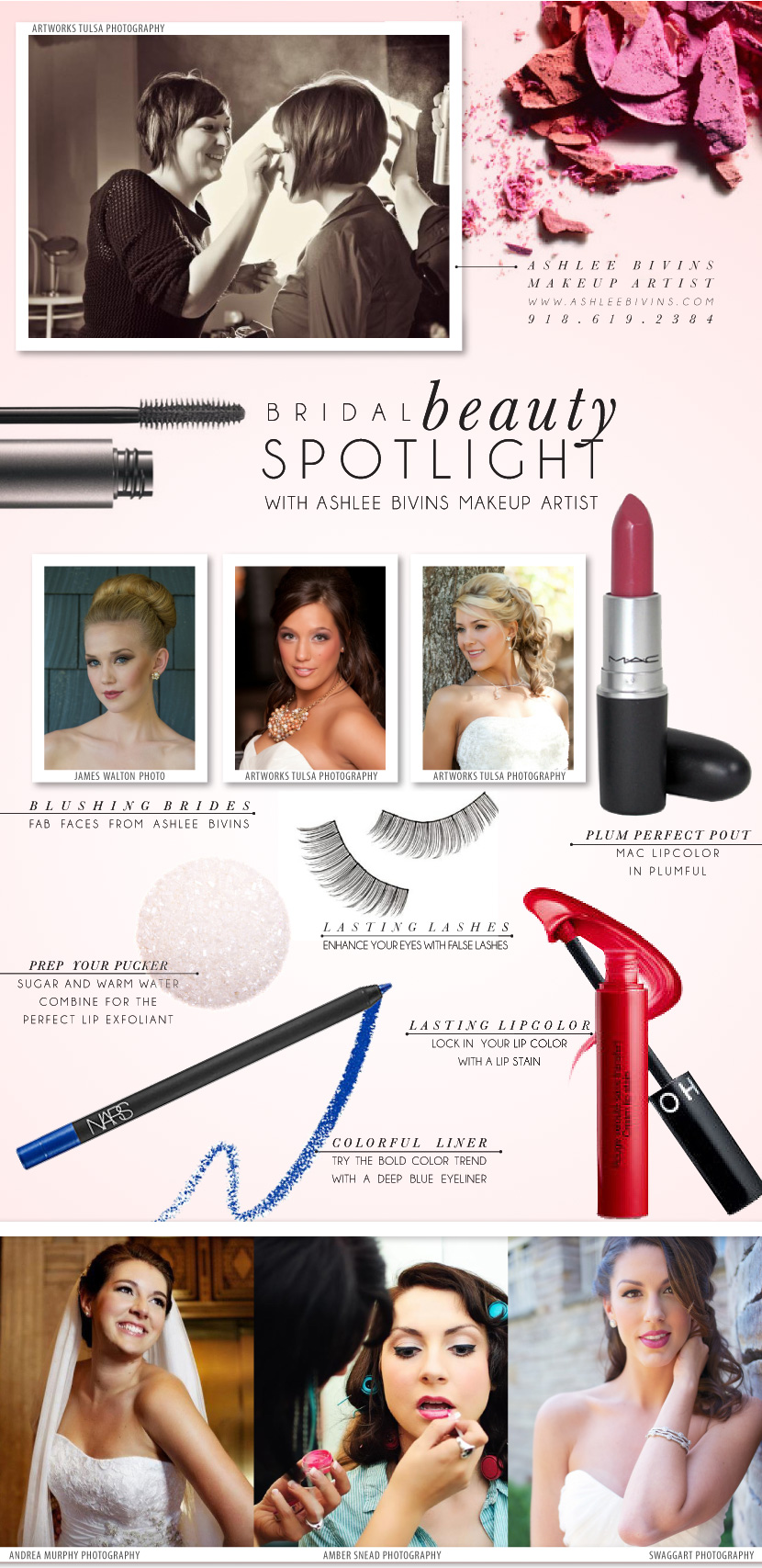 We are so excited to share some helpful bridal beauty tips and insight into the latest trends  from local makeup artist Ashlee Bivins! Check out our Q&A below and see more of Ashlee's work by visiting her online!
What are the advantages of doing a make-up trial run before the big day?
A trial gives the bride the opportunity to see the look she may have in mind. Often times, the bride completely changes her mind once she starts talking it out with me before we start the makeup application. Take into consideration: time of the wedding (evening or daytime), the theme of the wedding (vintage, traditional, etc), the style of the dress, etc. This is also a great time to book the bridal or engagement session. It really puts the makeup into perspective when you can see it in photos. Some brides will want to go a little more dramatic once they see the photos of the initial look, but in the studio at the trial, think they like it as is.
What advice do you have  for a bride trying to find the right look for her day?
Look through bridal magazines, check out Pinterest, view online resources, etc. However, keep in mind that the eye look you pick out needs to resemble your eye shape, as this can drastically change the look. If you have no idea of what you are wanting, your makeup artist can create a look that fits your eye shape, style and vision you are looking for.
What beauty product should every bride have with her at all times?
Lips! I highly recommend a lip stain. Through all the kissing, drinking, eating and talking a lip stain will give you the ease in knowing you don't need to touch up your lips every half hour!
What beauty trends are you noticing this spring?
Colored eyeliner, bold lips, dramatic eyelashes and thicker brows. In everyday makeup, wear a bold liner in your waterline (emerald, blues, purples, etc). For the brides-to-be, you can do this in a more subtle way, by using olive green or a deep navy, while still staying on trend.  The bold lip is a trend that brides are running with! Whether it is red, coral or pink, don't be scared to get outside your comfort zone. Tone down the eyes and let your lips pop!
What's your favorite shade of lipstick?
MAC- Plumful lipstick. It has just the right amount of color without taking over the drama of the eyes. It is perfect for brides!
Do you recommend false lashes?
Absolutely! Although, fake lashes can be scary to some brides who have never worn them before, they are a necessity to finish off the makeup look! Fake lashes photograph so beautifully, especially when the bride will be posed looking up, down, to the side, etc. Make sure to try the lashes out at the trial to ensure they feel comfortable to you before the wedding day, as makeup artists usually use several different brands of lashes.
How can a bride keep her make-up looking fresh and flawless throughout her big day?
Get your makeup professionally done! The quality of ingredients and formulation in makeup products is crucial on your wedding day. That's why pros are always searching for the best products to use with their clients – they've tried it all!  Professional products have been specially formulated to look exactly the same in person as they do in print or on film. Plus, no matter how much kissing, crying & dancing you do, or how oily/sweaty you might get, pro products can take it all in stride!  If you want a "safety net", bring oil blotting sheets and, of course, as I mentioned before- your lip product.
Any other helpful beauty tips for brides-to-be?
Exfoliate your lips as the wedding day approaches. A little sugar and warm water will act as a natural exfoliant when you apply it to your lips and rub them together. On the wedding day, your lips product will glide on flawlessly and your lips will be fresh and kiss-able!