Beauty
Bridal Beauty Spotlight – Jennifer McLaughlin Makeup Artist
by Brides of Oklahoma October 1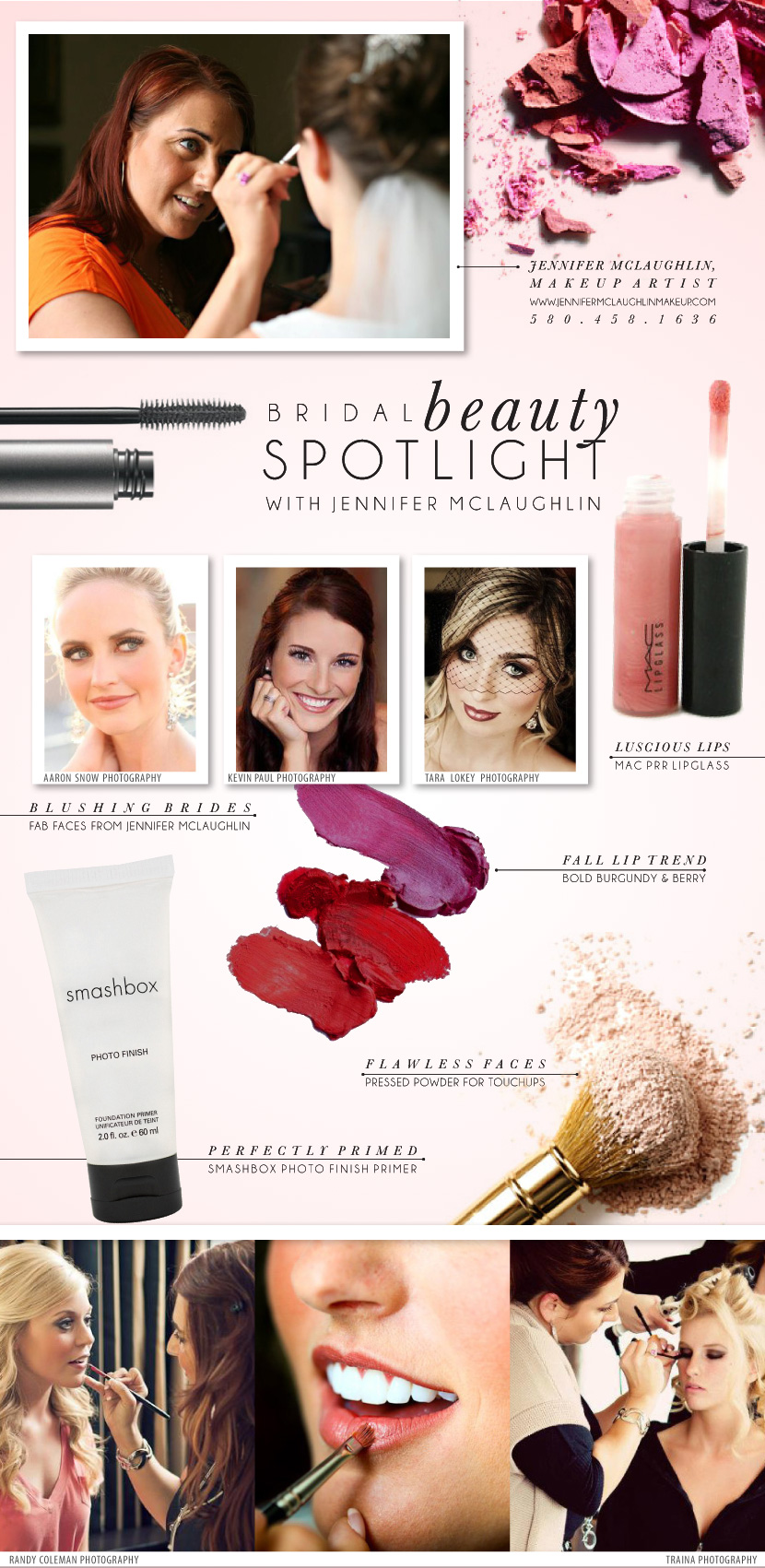 When the big day finally arrives, every bride wants to look her best! We're teaming up with local beauty experts to get the inside scoop on all things bridal beauty. We recently sat down with Oklahoma makeup artist Jennifer McLaughlin to get her expert advice. Check out her helpful tips below and stay tuned to the blog as we share more beauty tips from local Oklahoma experts!
What beauty product should every bride have with her at all times?On her wedding day, the bride will most definitely want to have her lipstick and gloss with her at all times…or at least with her very handy maid of honor! A pressed touch up powder is also a great idea to have readily available. If your makeup was applied well to begin with, it will be all she needs to touch up from the first kiss, to the last dance!
How can a bride keep her mascara from streaking or smudging on the big day — especially if she can't contain the waterworks?! If black raccoon eyes isn't a good look for you, the best way to avoid the ever dreaded "mascara smear," is to go WATERPROOF on the big day! I wouldn't recommend waterproof mascara every day, as it has the tendency to dry out your natural lashes, but for the big day (especially if you are anticipating tears, which may not be the case for a bride but might for her mom!), waterproof is where it's at. My favorite waterproof mascara, and it's a steal…is CoverGirl Lash Blast! It comes in three great formulas; the orange tube for building volume, the yellow for lengthening and the purple for the best of both! If you are a girl looking for a splurge, the all around best way to avoid running mascara is with professional lash extensions. They generally need to be filled every two weeks, so plan ahead, and accordingly!
What's the best way to conceal a last-minute breakout? I always say that your makeup is only going to look as good as the skin you are putting it on, so keep true to a great skincare routine, and drink plenty of water prior to the big day. Last minute breakouts happen to the best of us, though! Most brides see the "stress pimple" around the mouth/chin area. This is a very probable location for a last minute breakout. The best way to conceal is with a lightweight liquid concealer, applied with a firm, synthetic brush. Tap the concealer in with the brush, and set it with a powder!
How can a bride help her make-up stay put for the entire event? The best way to help get stay put makeup is to hire a professional that can analyze your skin type and choose products that are best suited for your skin concerns or problems, and who knows how to apply them in a way that will prevent the slips and slides. If you are doing your makeup on your own, be sure to start with a primer (I love Smashbox Photo Finish Primer), or a foundation with a primer built in! Working from the bottom up, ensuring that you are prepping the skin correctly, will definitely help the makeup stay where it's put from the start!
What's your favorite shade of lipstick? It's so hard to pick just one favorite shade of lipstick because I love to customize the looks I execute based on each lovely bride and what her style is. I find that a lot of brides ask for a "neutral flesh toned" shade, maybe with a hint of pink, so given that popular request, I often turn to Whirl lip pencil, Modesty lipstick, and a touch of Prr lipglass, all found at your local MAC Cosmetics counter! It is a perfect neutral pink shade that flatters most fair to medium dark skin tones! For dark skin toned ladies, they will find a great shade in Chestnut lip pencil, Viva Glam V lipstick, and Oh Baby lipglass, also found at MAC!
What beauty trends are you noticing for the fall? One of the biggest beauty trends for fall is a BOLD lip! I'm loving the shades of burgundy, wine and deep berries that I'm seeing for fall! Skin that looks like porcelain, with a soft and subtle glow, shimmering champagne shaded eyes, and this bold trend in lips is so gorgeous and a refreshing change up from the nude lip we saw last fall. What I do like to remind brides, though, is to stay classic and stay true to themselves when choosing a look for the big day. Following trends, while it may be fun and hip, may result in you questioning why you chose what you did ten years from now when the trend has faded! Be sure to really LOVE your look because it will be forever immortalized in your pictures!
Any other helpful beauty tips for brides on their big day? My biggest tip for a bride on her big day is to not leave thinking about your makeup for the last minute. Treat your skin well throughout the planning stages, don't slack on your skincare! Collecting images of makeup that you love is a huge help when the big day gets closer, it helps you with the direction you want to go. Try a few new shades of lipstick out, try on false lashes and see if they are for you so that you don't have to make that decision the day of and decide wrong! Even if you cannot afford to hire a professional for the day of, you should try to work a consultation into your budget, or a lesson, so that you can be taught by a professional how to execute your perfect look, all on your own. The worst thing you can do is leave it to the day of or wing it at a counter! Speak up too…be honest with whomever you are working with, we aren't offended, we want you to LOVE how you look!