Beauty
Bridal Beauty Spotlight – Malorie Avaline Hair Stylist & Make Up Artist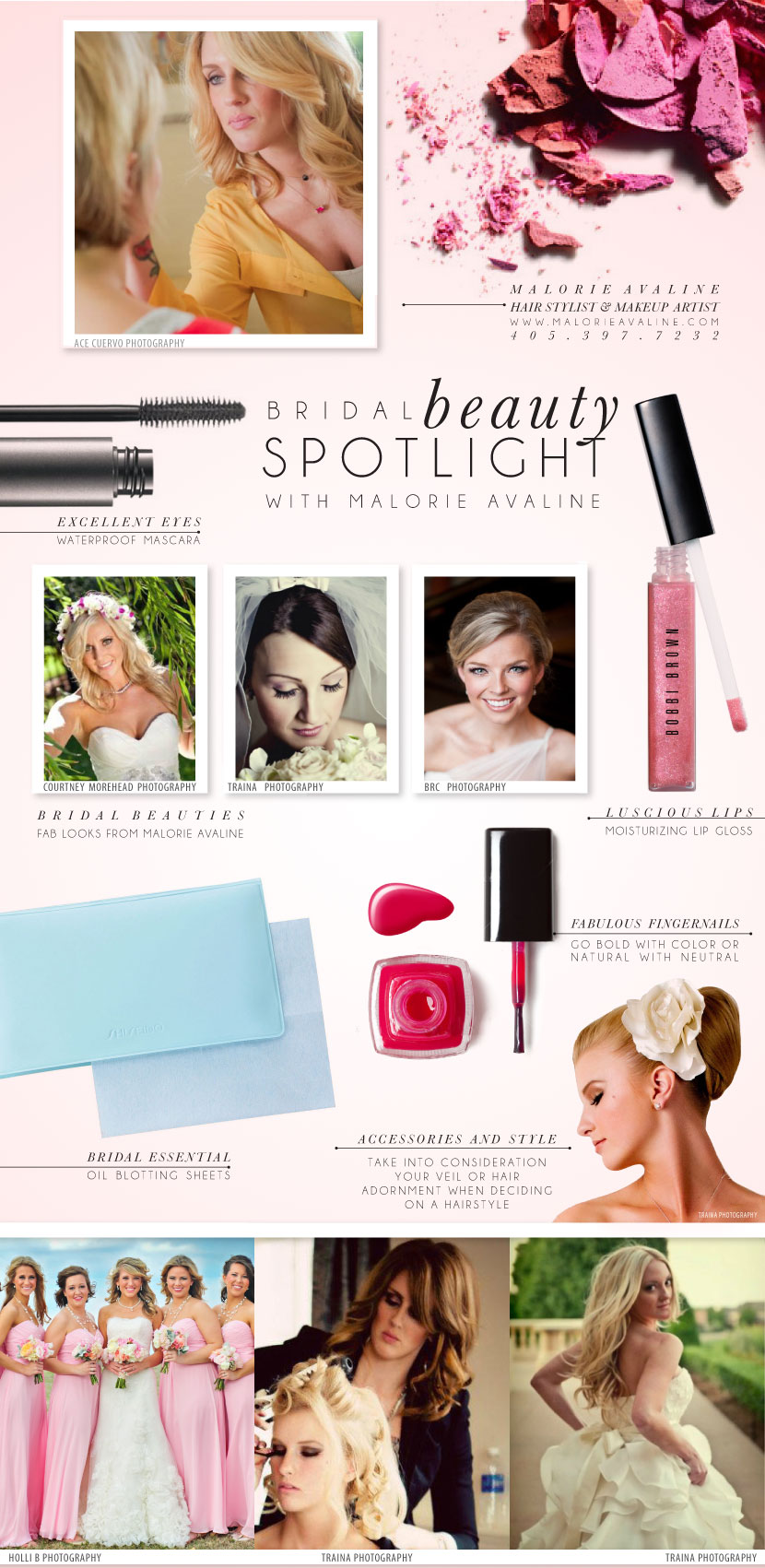 Every bride wants to look her best when the big day finally arrives! That's why we are continuing to share tips and trends from local bridal beauty experts! We recently sat down with Oklahoma hair and makeup artist Malorie Avaline to get her expert advice. Check out her helpful tips below and stay tuned to the blog as we share more beauty tips from local Oklahoma experts!
What advice do you have for a bride-to-be who is trying to decide on a hairstyle for the big day?
When it comes to hairstyles I always ask the bride what style her dress is and if she is wearing a veil or any hair adornment. This must be taken into consideration. Also, many women wear their hair one way most of the time. So for instance, if they always wear it down and then see it all up, they may not feel quite like themselves. This is why a trial is important. During a trial I ask the bride, based on the theme of her wedding, the style of her dress and personal style, to select hair styles she would like to try. When the style is completed I then put the veil in place so she can see the entire look together.  This is a great time to play with the possibility of different looks. Have fun and be creative but stay true to your personal style.


How can a bride help her make-up stay put for the entire event?
Moisturizer and a make up primer are very important! Even, moisturized skin is always a great way to start. Foundation primer and quality foundation will ensure a fresh beautiful face with no creasing. To ensure that make up stays put all night long, I finish off with a make up setting spray.
How can a bride keep her mascara from streaking or smudging on the big day — especially if she can't contain the waterworks?I always recommend waterproof mascara for the wedding day. This will prevent the black from streaming down your face. But, not all eye make up is waterproof. Like your liner or shadow. When the tears start flowing, and if you're anything like me, they will! Make sure you have a tissue handy. (You can always ask your maid of honor to hold one close to her bouquet during the ceremony.) Remember not to wipe the tears away but blot under your eye instead. This will prevent the tissue from taking off your make up as well as to prevent it from smearing.
What beauty product should every bride have with her at all times?
I personally never leave home without a moisturizing lip-gloss! It adds a little shine and color in a snap as well as adding vitamins to the lips. Every woman is different though. For someone with oily skin, I recommend oil blotting papers. They are fantastic for absorbing excess oil without removing your make up. A pressed powder is also a great option to freshen your face throughout the day.
What's your favorite color of nail polish?
Right now it's anything goes with polish. I am seeing a lot of bold colors and accent nails and loving it. When selecting a color for your wedding, be careful not to go to trendy. You don't want to look back and say, "what the heck was I thinking?!" Stay with a neutral or a solid color that coordinates well with your color palette.
What beauty trends are you noticing for the winter?
This year, bold lips are the way to go! From bright reds and pinks, to plums and berry. Many of my brides are wearing a statement lip. Strong defined brows are also here to stay. No more over tweezing!!
Any other helpful beauty tips for brides on their big day?
Most importantly, beauty starts on the inside. Make sure you are drinking enough water. 8-10 8oz. glasses a day is recommended for proper hydration.  Hydrated body = hydrated skin. Also, eating healthy foods and making sure you are getting enough rest. Add plenty of fresh fruits and veggies to your diet and get at least seven hours of sleep each night. Hey, they don't call it beauty rest for nothing!