Beauty
Bridal Beauty Spotlight: Sooo Lilly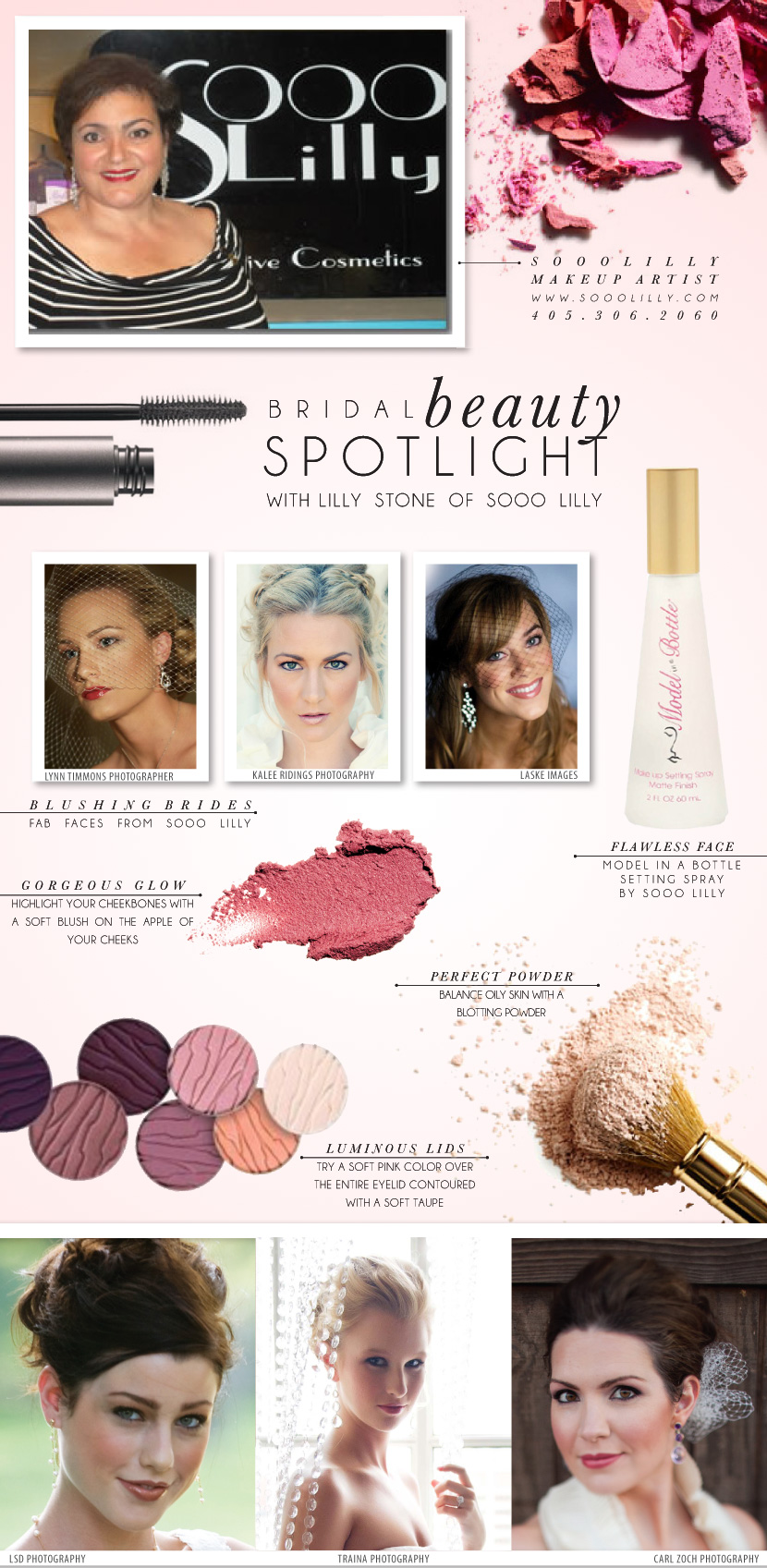 We are so excited to share some expert beauty advice from Oklahoma make-up artist Lilly Stone of Sooo Lilly! Lilly dished on her favorite beauty looks, upcoming trends and more. Check out our Q&A below and find out how to look your best when the big day arrives!
What advice do you have  for a bride trying to find the right look for her day?
Look at pictures of brides in the Brides of Oklahoma and bring them to your makeup artist. Be open to suggestions that the artist makes. It is your special day and your makeup should reflect that. It isn't everyday that you wear a wedding dress. But in 20 years, you don't want to look back at your pictures and say, "what was I thinking?!"
What beauty product should every bride have with her at all times?
Long-wearing lip color and blotting powder if you're skin is oily.
What beauty trends are you noticing this spring?
A face that glows. Highlight the top of the cheekbone, contour your face and a little blush on the highest part of the apple of the cheek.  Lips are a soft peach like my Micro Bisque and Pink Coral. For the classic retro lip, I love my red in Scandalous.
What's your favorite shade of eye shadow?
I love a classic eye with a wing-tipped eyeliner. A light bone or soft pink color over the entire eyelid and contoured with a soft taupe or my "rose champagne." Lining inside the lash line gives great definition to the eyes and makes them pop!  Definitely false lashes. I prefer halves or individual lashes.
What's the best way to conceal a last-minute breakout?
Don't pop them! Keep your hands off your face! Use a blemish concealer with salicylic acid.
How can a bride keep her make-up looking fresh and flawless throughout her big day?
I always use my makeup setting spray. It works even on the oiliest skins!  You will only need to touch up your lips!
Check out more from Sooo Lilly by visiting her online!