Beauty
Bridal Beauty Tips and Trends from Trichology Salon
by Brides of Oklahoma July 7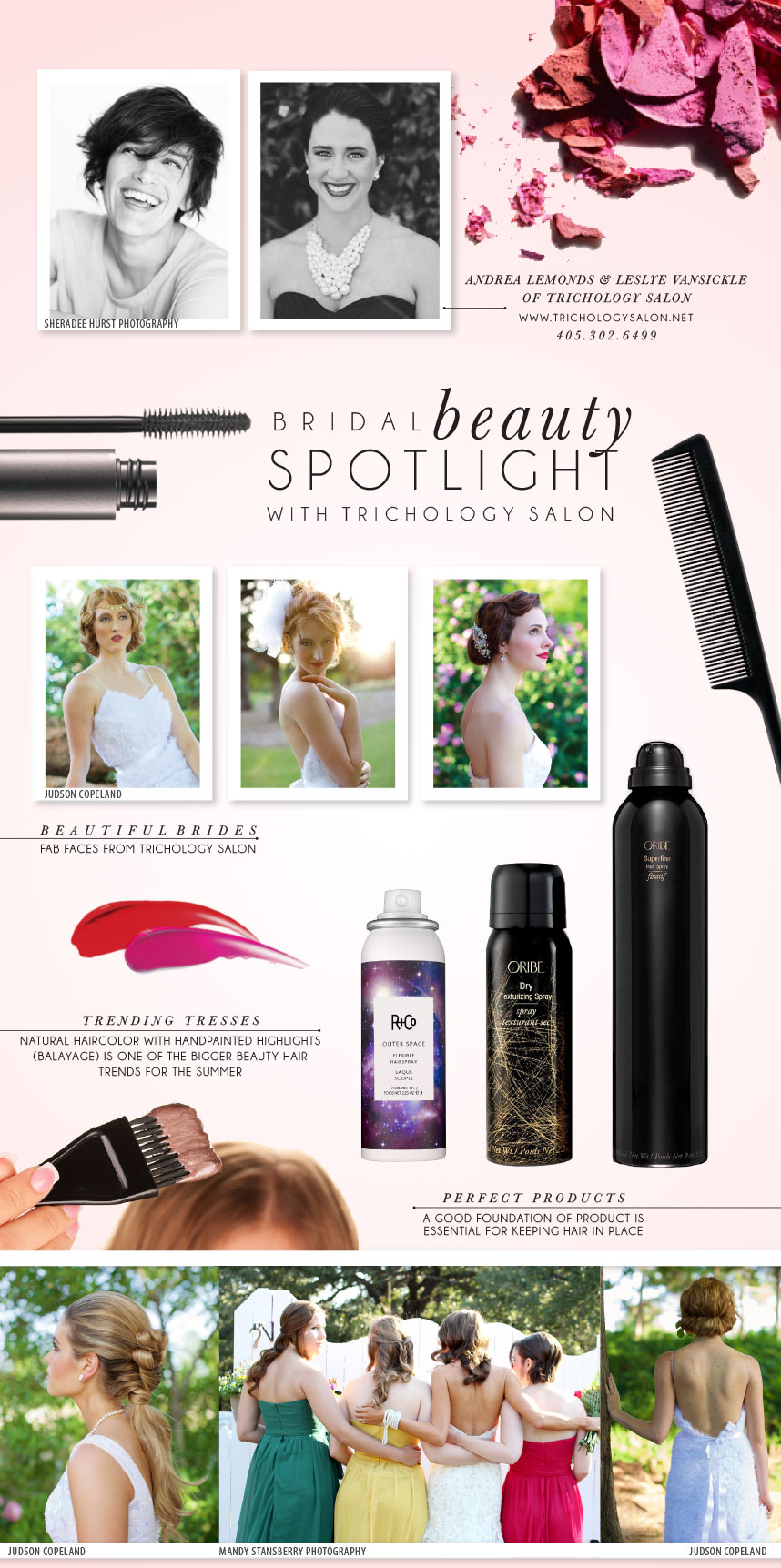 When the big day finally arrives, every bride wants to look her best! We're teaming up with local beauty experts to get the latest bridal beauty tips and trends. We recently sat down with the beauty experts at Trichology Salon to get their expert advice. Check out their helpful tips below and stay tuned to the blog as we share more beauty tips from local experts!
1. What beauty trends are you noticing for the summer?
As far as hair trends go, we are seeing center parts, natural texture (wavy/curly), low ponytails and natural hair color with hand-painted highlights (balayage) as some of the bigger beauty hair trends for the summer.
For makeup we are seeing a bare minimum/"no makeup" look, bright red lips, purple eye shadows, pops of color with eyeliners and bronzer for that sun-kissed look as the trending summer makeup looks.
2.What advice do you have for a bride trying to find the right look for her day?
A bride needs to look for things that fit her character/personality and something she will be comfortable wearing on her wedding day. I find that trends can be great while classic looks are timeless. Wedding magazines, Pinterest and other Internet search engines are a tremendous help in getting things started for finding the perfect wedding look. Choose two to three images and make an appointment for a trial run. The hairstylist can help with which style works best for a bride's hair type and face shape so that everything enhances the beauty of the bride on her wedding day.
3. How can a bride help her hair stay put for the entire event and withstand the Oklahoma heat?
A good foundation of product is essential for keeping hair in place on a bride's wedding day. From hairsprays to dry shampoo to styling products with hold, we have the products a bride's hair would need. Some of our favorite products here at Trichology Salon are Soft Lacquer, Imperméable and Dry Texture by Oribe. From the R+Co line, we like Foil and Outer Space. With the right foundation, a bride's hair will look great and withstand Oklahoma's weather.
4. What beauty product should every bride have?
HAIRSPRAY! For a flexible hold, we like Oribe's Superfine. For a strong hold, Oribe's Superfine Strong will keep even the flyaways in their place.
5. Any other helpful beauty tips for brides-to-be?
It is never too early to start in on a bridal beauty treatment for hair and skin. Preparation is key to having an amazing wedding day. Talk with your hairstylist for a routine that will help your hair and skin be at its best for your special day.
Other Local Vendors: Trichology Salon