Mag Life
Fall/Winter 2010 Cover Revealed!
by Brides of Oklahoma July 7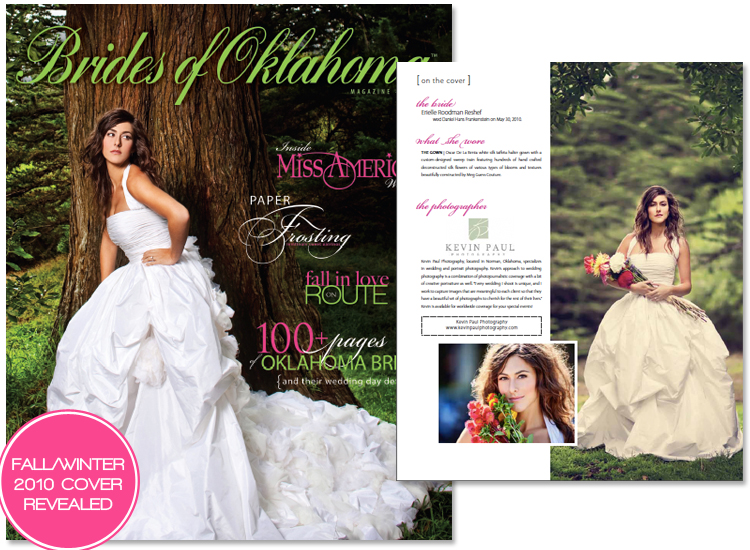 We're super excited to give a sneak peek of the Brides of Oklahoma Fall/Winter 2010 Cover Bride! With a huge selection of gorgeous brides and amazingly talented photographers, it was no easy task choosing the winner of the cover contest. Congratulations to Kevin Paul Photography for capturing this stunning image of recent bride Erielle Reshef-Frankenstein! We immediately fell in love with "The Bride of Frankenstein's" gorgeous look. Her husband-to-be's interesting last name inspired the bride to even do some unique "Bride of Frankenstein" themed bridal portraits — so fun! Erielle, dressed in an Oscar de la Renta gown with custom train by Meg Guess Couture, looked simply stunning. Erielle Reshef and Daniel Frankenstein tied the knot this May in Oklahoma City! You can find their wedding featured on pages A15 & A16 of the latest issue. Check out more of Erielle's gorgeous bridal portraits and wedding by checking out Kevin Paul Photography on Facebook! Be sure to pick up your copy of the new Fall/Winter issue, which is set to hit newsstands this week! You'll find all new real weddings to inspire! You can find Brides of Oklahoma at Barnes and Noble, Borders, Hastings, Waldenbooks, Books A Million, Full Circle Bookstore, Steve's Sundry and Whole Foods.
Think you have what it takes to be featured on the cover of our next issue? Enter the cover contest by October 1, for a chance to see your face on the cover of Oklahoma's best bridal magazine!