Archive
Simple Weight Loss Plan – "My" Personal Trainer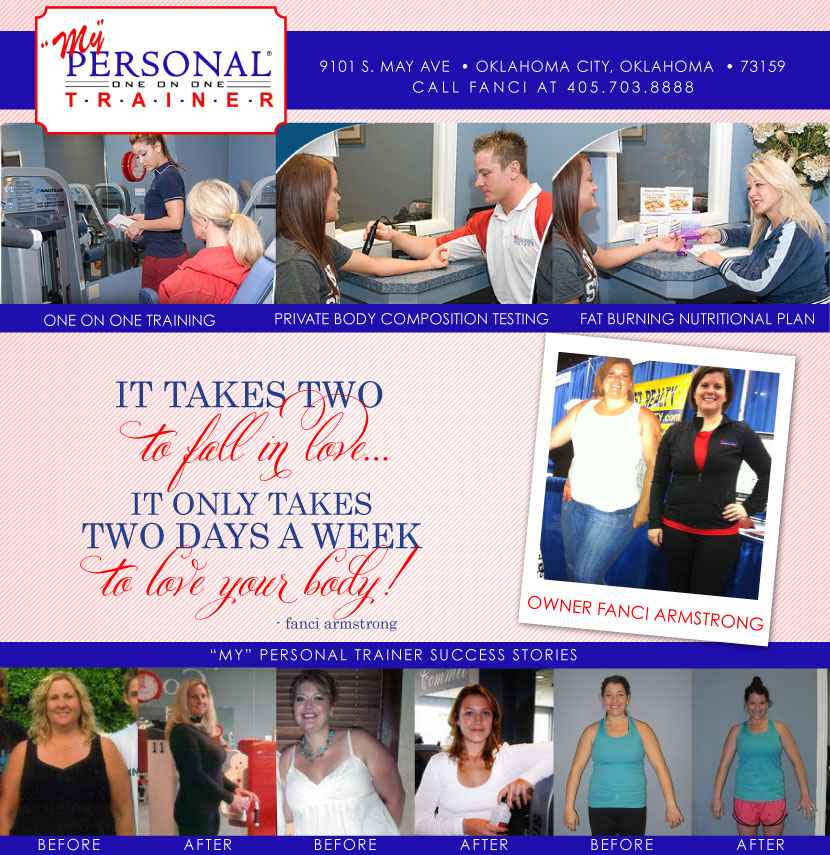 Listen up gals! If you're worried about fitting into your dream gown when the big day finally arrives, there is an easy solution to dropping a few extra pounds. "My" Personal Trainer offers one on one training, a nutritional plan and private body composition testing! We chatted with owner Fanci Armstrong to find out more about "My" Personal Trainer and the benefits of using their weight loss methods.
How did you get involved with "My" Personal Trainer?
We've been in this industry about 12 years and saw the same stuff over and over again. We would see people, along with myself, go through so many ups and downs year after year and just couldn't figure out why. So we did a ton of research and investigating because we wanted to open something that could change this process.  We want to end YoYo dieting once and for all! We found a company, "My" Personal Trainer that actually taught clients the science of the body and how it works, not opinions or suggestions.  It was a perfect fit from the start!
What sets "My" Personal Trainer apart from just going to the gym or dieting?
The biggest part is that you're not doing it alone or improperly. We get you the best possible results in the safest, most efficient way possible. We are by appointment only. Which means that that time is saved for you! There won't be any waiting on machines and that also creates accountability because let's face it, we all need accountability when it comes to our health.
If a bride wants to lose 10 lbs before her wedding, when should she get started?
I always say there's no time like the present and we shouldn't put our health off another day because we never know what tomorrow will bring! With that said, I know personally everything the bride is going through, being a bride myself right now, we can remove 10 pounds of pure fat off your body in 6 weeks.  I say pure fat because we don't want you losing any water weight or muscle, those are the two ingredients that keep the weight off! After only a couple of weeks you will feel better than you have in years!
What's the healthiest way to lose weight?
Anaerobic exercise gives you the very best benefits. Proper progressive strength training does it all! Increasing strength that will reshape your entire body, while reducing overall body fat. It also won't consume valuable time.
How can a bride with a busy schedule stay in shape before the big day?
All of our clients train twice a week for about 20 minutes each session, so ANYONE can do it! If you do it correctly then this is all you need.  It's not about the length or duration of your workout, it's about the efficiency of your workout!  It's about getting results and that's what we give you with our workout.
"My" Personal Trainer's private studio is located at 9101 S. May Avenue in Oklahoma City. For more information, call 405-703-8888 or visit "My" Personal Trainer online!