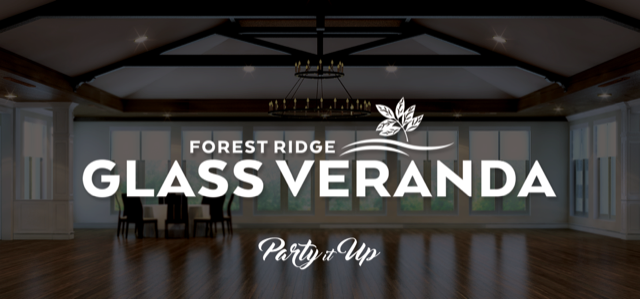 Contact: McKenzie Miller (918) 357-4413
Broken Arrow, Oklahoma 74014
Meet The Team

McKenzie Marshall
Event Sales Manager
About
The Glass Veranda at Forest Ridge Golf Club is perfect for weddings, receptions, corporate events, family reunions, proms, fundraisers, and private parties. It offers an enchanting atmosphere featuring a Grand Room with a magnificent glass wall overlooking the golf course.With newly renovated warm inviting interiors, an old-world chandelier, and breathtaking golf course views, our event room offers a picturesque setting for any occasion.
Pricing
Please contact us through the form below for pricing information.
---
Whether you're in search of a traditional wedding venue or a more out-of-the-box setting, the greater Tulsa area has it all! Today, we're here to highlight a few of our favorite wedding venues located in or just outside of the Tulsa metro that you absolutely cannot miss in your search for the perfect location to say "I do!" So, sit back
From velvet linens to dainty touches and florals to-die-for, marvelous mauve wedding decor gets the spotlight in this inspiration shoot at The Glass Veranda at Forest Ridge Golf Club, an incredible venue in Broken Arrow! Part of Glass Veranda's appeal is the picturesque outdoor spaces it shares with Forest Ridge, a pristine golf course with giant trees and rolling hills.
There's something about a country club setting that simply elevates the feel of a wedding celebration, and these Oklahoma country club wedding venues are no different! Set among pristine golf courses with incredible trees, lakes and of course, jaw-dropping indoor spaces, these five venues across Oklahoma are most definitely worth putting on your list of venues to explore. All-inclusive amenities