With vaccines rolling out and mandates being lifted, life may seem like it's on its way back to – dare we say – normal? However, if you're hosting a wedding anytime soon, precautions are still very necessary to help keep your wedding guests safe. Just no sense in taking a chance! Read on for five smart ways to celebrate safely and make sure your guests enjoy themselves while keeping risk factors as low as possible.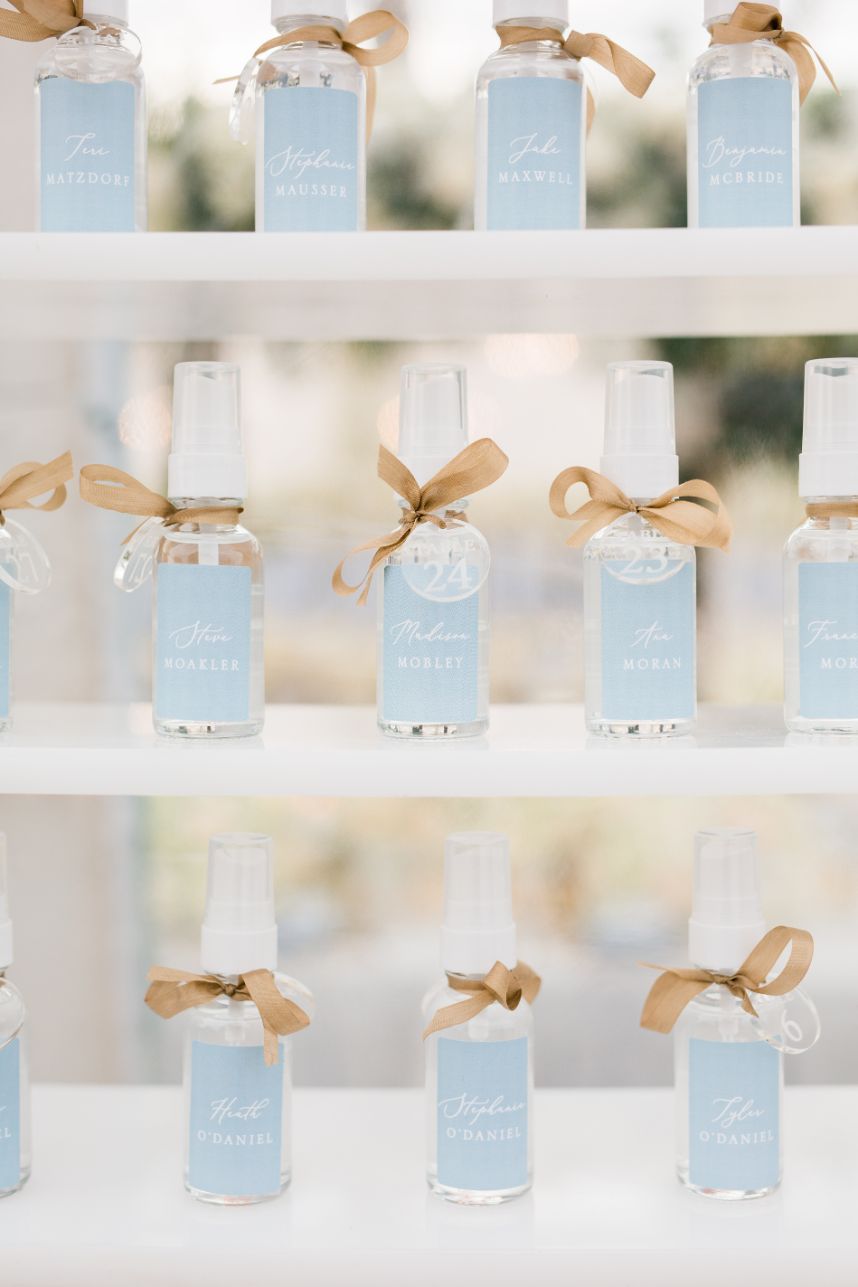 Photos // Paper + More, Aaron Snow Photography
1. Make Use of Outdoor + Open-Air Spaces
Taking your celebrations outside helps to keep air flow at a maximum and allows you to take advantage of tons of extra space for distancing. A win-win! If you haven't considered a tented reception, we totally recommend looking into this option. From frame tents to structured tents to the whimsical sailcloth options, wedding tents have expanded in style, selection and more over the last decade. Tents allow your guests to have a constant source of fresh air and to spread out, even in the event of less-than-ideal weather.
If a tent isn't an option, consider outdoor venues with usable lawn space to allow guests to move around safely.
2. Maintain Socially Distanced Seating Throughout the Day
This is where a seating chart becomes extra important. To help keep your wedding guests safe, you'll want to carefully consider seating arrangements and make sure social distance is maintained throughout the day, from ceremony to cocktail hour to dinner and beyond. Work with your venue and your planner to make sure tables of people who aren't from the same household are far enough apart, consider a few different lounge areas with seating spaced a smart distance apart and consider a VIP seating section for certain parts of the day for those guests who may be more high-risk.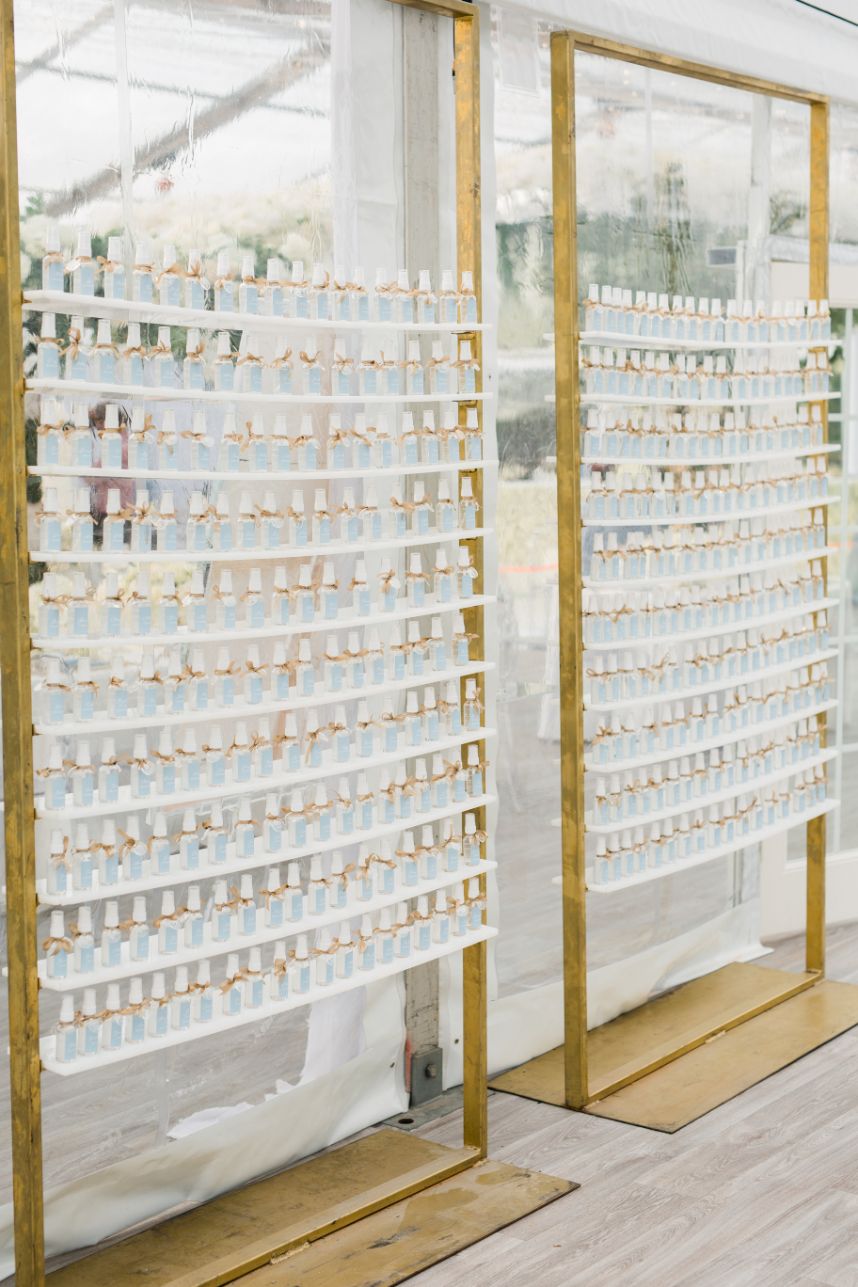 3. Don't Skimp on Germ Protection
Take a stand against infection risk by making sure you have plenty of individual hand sanitizers, masks and mini wipe packets conveniently available for guests in as many places as possible. Anti-bacterial stations placed strategically throughout your venue are always smart, as are individual items placed at each guest's seat. Take the opportunity to add a punch of pizazz to these items by having them made custom to match the branded elements of your wedding! Whether you have a monogram or a distinct color scheme for your wedding, small items like these are perfect places to carry your wedding theme even further.
4. Serve Meals Safely
Cocktail hour and mealtime are two parts of your day where you'll want to be extra mindful of your guests' safety. Your bartenders and caterers should still be taking all necessary precautions to serve food and drinks safely. We definitely recommend individual dining options for cocktail hour, like personal snack boxes, individually wrapped hors d'oeuvres or if you do go with a buffet option, making sure sneeze screens are in place and that minimal servers make contact with the food before it's passed on to each guest. Single-serve is the name of the game!
5. Consider On-Site Testing
If you want to go the extra mile and do the absolute most to ensure the safety of your family in friends in attendance, consider on-site testing. You could have designated temperature takers wearing gloves and masks, using a quick-scan digital thermometer to monitor guests' temperatures as they enter, or you can even go as far as to offer on-site rapid Covid tests for your guests! RightNow Laboratory is a testing company based in Texas that provides rapid Covid tests for couples and their wedding guests, with two different options for results available in as little as ten minutes with an antigen test, or a molecular test version with results available in 30 minutes.
Bonus: Invest in a Planner's Expertise
Planning a wedding is overwhelming no matter when you're getting married, but add in the stress of a lasting pandemic and you have quite a few extra issues you'll need to think through. A professional wedding planner is trained and experienced to consider all possible situations and come up with solutions that make the most sense for you, your guests and your budget. We can't emphasize enough the importance of a planner's expertise!
---
See our full Covid wedding guide here!
hand sanitizer seating chart
Other Local Vendors: Aaron Snow Photography